FREE SHIPPING PLUS DISCOUNTS
NEW Customer FIRST order ships FREE.
REPEAT Delivery orders ship FREE.
Learn more: Repeat Delivery
Product Description
Eniva ATP-Pro® contains a clinically tested and patented** form of D-Ribose. In university studies it has been shown to support cardiac health, enhance energy production and promote muscle mass gains.* ATP-Pro provides patented** D-Ribose, a cellular regulator of ATP energy production clinically proven to assist muscle and heart function.*
At the Heart of a Healthy Body
Eniva ATP-Pro is a powerful dietary supplement that provides your body with a patented form of D-Ribose, the most fundamental source of energy your body can have. D-Ribose is what your body uses to naturally build its energy stores. Taking Eniva ATP-Pro helps your body quickly replace energy levels that have been depleted by hard work, exercise, or health challenges.* The patent protection and clinical studies cover a broad range or nutritional and pharmaceutical uses for D-Ribose.
• Supports heart health and optimal cardiac function*
• Assists with energy production and enhancement*
• Supports muscle mass gains and muscle health*
Scientific References: Data on file, Eniva Corporation, 2019.

* This statement has not been evaluated by the Food and Drug Administration. This product is not intended to diagnose, treat, cure, or prevent any disease.

**The D-Ribose used in this product is protected by Patent Numbers 6,159,942; 6,159,943; 4,719,201; 4,605,644 and additional issuing Patents.
Nutrition Facts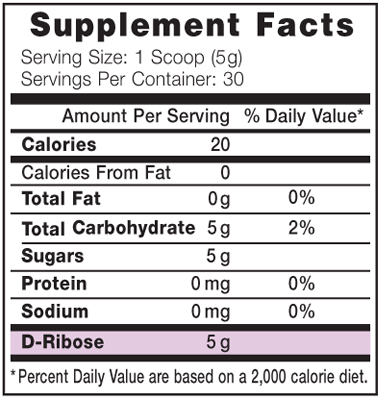 Ingredient: D-Ribose.
• No Artificial Colors or Flavors
• No Stimulants
• Gluten Free
• Vegetarian Friendly
• No Fish Ingredients

Directions: Adults: 2 scoops daily (1 scoop in am, 1 scoop in pm). Add one level scoop (included) to 8-20 ounces of water or juice. Stir briskly and drink. It can also be sprinkled on cereal, sliced fruit, yogurt or apple sauce.
Maintenance Dose:
1/2 scoop, 2 times daily (1/2 scoop in am, 1/2 scoop in pm)
Note: This product may cause a brief decrease in blood sugar levels. As such, it is recommended to mix this product with your favorite fruit juice and/or take with food. Do not consume on an empty stomach.
Caution: Do not consume if tamper resistant seal is broken /missing. Do not consume if you are allergic to components within product. This product is not recommended for use by diabetics. As with all dietary supplements, contact your doctor before use. If taking prescriptions, have ongoing medical condition, pregnant, nursing or under the age of 14, Those with elevated uric acid levels (associated with gout) should consult a doctor before use. KEEP CAP TIGHTLY CLOSED. KEEP OUT OF REACH OF CHILDREN.
Product Reviews
Write Review
ATP for life

Posted by Unknown on Aug 24th 2018

ATP is easy to use and to take. I use it for my heart and other muscles. This is very important to me as I get older. This product is wonderful for my body, and it really gives me energy.

Awesome Energy!

Posted by Therese B. on Feb 1st 2016

The Enva ATP-Pro is so amazing. -- I use ATP-Pro when I need extra support after a long evening of working through stressful deadlines. The next day, I just add ATP to my juice, and It totally helps me maintain a constant energy level without the fatigued feeling from the night before.