Creatine Monohydrate Ultra Micronized Powder
Ultra Pure, Ultra Fine, Ultra Absorption, Gluten Free, Non-GMO, Dairy Free, Soy Free, 0 Sugar, 0 Carbs, 0 Calories, Lab Tested & Verified
Creatine Monohydrate Ultra Micronized Powder
Ultra Pure, Ultra Fine, Ultra Absorption, Gluten Free, Non-GMO, Dairy Free, Soy Free, 0 Sugar, 0 Carbs, 0 Calories, Lab Tested & Verified
---
Creatine Monohydrate Micronized Powder
Premium Nutrition. Maximum Performance.
PURE. TESTED. MICRONIZED FOR EASY MIXING.
Creatine Monohydrate is a highly researched amino acid shown to support muscle strength, power and size in combination with high intensity activity.* It also supports cellular energy and brain health.* Eniva Health® provides premium creatine monohydrate in micronized form for easy mixing and optimal delivery to the body.*
Creatine Supports
• Building lean muscle mass, muscle strength and size*
• Muscle endurance*
• Power and performance during a workout*
• Muscle growth to full potential*
• Exercise recovery – supports hydration and nutrient replenishment for muscles, bones, ligaments, tendons and nerves*
• May help delay fatigue and mild muscle tenderness*
• Cognition and brain health*
• ATP production – release of energy from ATP to cellular activities*
For Exercise and Regular Activity
Take 1 scoop (5 grams) 30 - 90 minutes before or after activity.
For Sports Performance Loading
Complete 2 Loading Cycles over 40 days.
SCHEDULE
Loading
5 Days
20 grams
Maintenance
15 Days
5 grams
Loading
15 Days
20 grams
Maintenance
15 Days
5 grams

Creatine Attributes
• 5 Grams Creatine Per Serving
• Micronized for Enhanced Absorption
• Ultra-pure – Third-party Tested to Ensure Quality
• Nature Based
• Soy Free
• Gluten Free
• Non GMO
• No Sugars
• No Fillers or Additives
• No Artificial Flavors, Sweeteners or Colors
• Zero Calories or Fat
• Doctor Formulated
5 Grams Pure Creatine Per Serving - USA Lab Tested & Verified, Doctor Formulated

Ultra Micronized for Easy Mixing & Enhanced Absorption*

For Lean Muscle Mass, Strength, Power & Performance*

Supports Brain Function, Thought & Focus*

Energy Production Support*

GLUTEN FREE, NON-GMO, DAIRY FREE, SOY FREE
0 SUGAR, 0 CARBS, 0 CALORIES, 0 FAT

No Fillers or Additives

USA Safety Tested – Third Party Lab Tested & Verified
Finished Product Produced at our GMP Certified & FDA Inspected USA Facility
Creatine Monohydrate - 70 Servings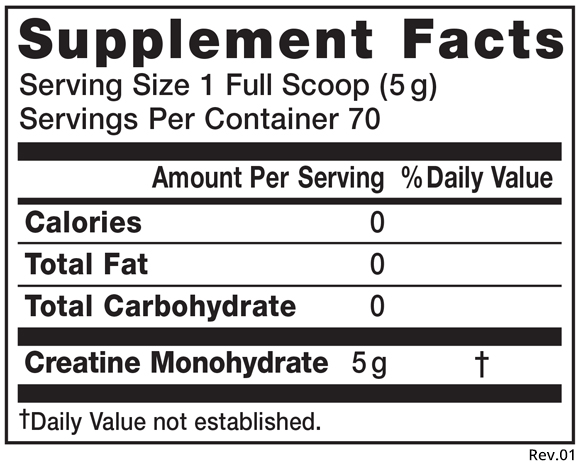 Creatine Monohydrate - 45 Servings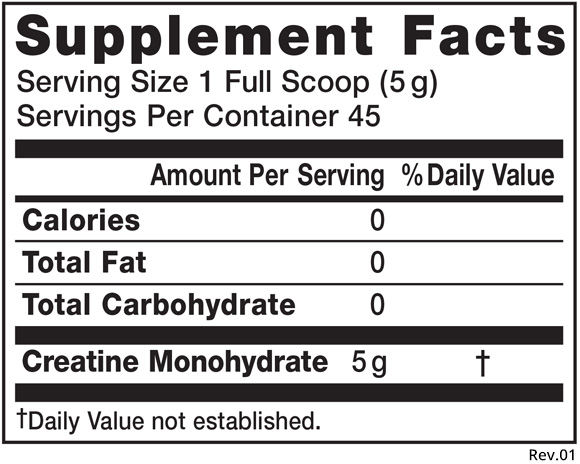 Other Ingredients: None
• Zero Sugar
• Vegan
• Gluten, Soy & Dairy Free
• Non GMO
• No Fillers
• No Artificial Colors, Flavors or Sweeteners
• BPA Free Bottle
Directions:
Adults: Take 1 serving (5 g) daily mixed with at least 8 ounces of liquid or as directed by your health professional.
For Exercise: May take 30 – 90 minutes before or after activity.
For Loading: For sports performance loading, see website for details.
Recommendations: It is important to stay hydrated when supplementing with creatine.
Storage: Store in a cool, dry place.
This product is sold by weight, not volume.
Settling may occur.
Avoid excessive heat.
Caution: Do not consume if tamper resistant seal is broken or missing. Do not consume if allergic to ingredients. As with all dietary supplements, contact your doctor before use. If using prescriptions, have ongoing medical conditions, pregnant, nursing or under age 18, consult doctor before use. KEEP CAP TIGHTLY CLOSED. KEEP OUT OF REACH OF CHILDREN.
PRE-WORKOUT ROUTINE
• Sart your routine with creatine to help with recovery time both between reps and for feeling great after workouts, too!*
• The micronized powder makes mixing easy and smooth (no sand). And, the fast dissolving nutrients aid with quick use by the body.*
BOOST EXERCISE PERFORMANCE*
• Creatine monohydrate helps you achieve your workout goals by helping increase ATP for your body's muscles.*
• Eniva Creatine powder, also supports mental focus and energy so you can workout harder without early fatigue.*
WE MAKE OUR OWN
• Manufactured in the USA in our own FDA inspected facility
• Produced onsite with strict Quality Control and testing
• For more than 20 years, we've been making safe and effective nutritional supplements to help people.
OUR PROMISE TO YOU
• If a customer is not pleased with any product purchase for any reason, we will offer a refund or exchange.
• All products are refundable/exchangeable within 30 days of purchase.
• We are committed to providing outstanding customer care for you.
Scientific References: Data on file, Eniva Corporation, 2023.
* This statement has not been evaluated by the Food and Drug Administration. This product is not intended to diagnose, treat, cure, or prevent any disease.