Specials
February Specials
---
---
NEW PRODUCT INTRODUCTION + $10 Off in February!
Natural Power 100% Whey Protein, Soy Free, Gluten Free, Non GMO, Zero Artificial Ingredients, 25 Grams Per Serving, Organic Vanilla Flavor
INTRODUCTORY PRICING! Get ongoing access to this new product by ordering now.
You've found it — top quality protein for game-changing performance at an awesome price! Pump-up results in muscle strength, mass and tone.* Plus, supercharge metabolism and recovery with ultra-fast nutrient delivery.*
> Order Natural Power 100% Whey Protein 2.75 lb – Introductory Sale Price: $29.95 >
> Order Natural Power 100% Whey Protein 5.5 lb – Introductory Sale Price: $49.95 >
> Order Natural Power 100% Whey Protein 11 lb – Introductory Sale Price: $89.95 >
---
February is Heart Health Month
Take care of your heart with our Heart Health Pack and save money too!
Only $99 During February.
---
Fall in Love with Our Lower Prices!
> ATP-Pro – Save another $10 on our new 2-Pack
> Vascular Advantage – Save a whopping $25!
---
NEW PRODUCT INTRODUCTION: Creatine Monohydrate Powder

Eniva Health Creatine Powder provides premium creatine monohydrate in micronized form for easy mixing and better delivery to the body.* No soy, No Artificial Sweeteners, No Artificial Colors, No sugars, Non-GMO. See and feel the difference with your muscles!*

> Order Creatine 22.2 oz – Introductory Sale Price: $12.95 >
---
NEW 16 oz Cold & Flu Buster Bottle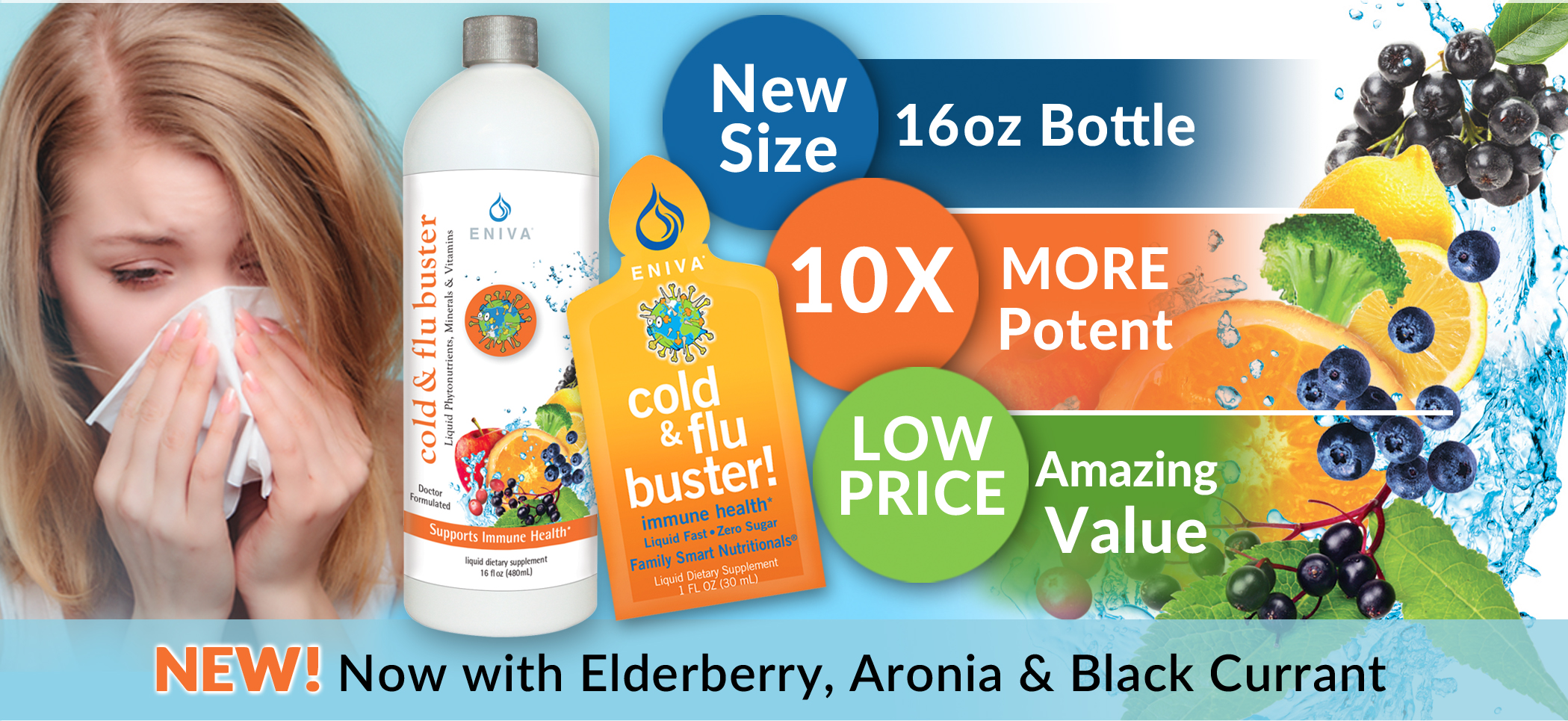 You asked for it, and it's here: the NEW 16 oz bottle of Cold & Flu Buster. It's great to have when more than one person in your household is trying to stay well! The specialized phytonutrient blend is now 10 times more potent — 1500 mg of immune boosting goodness!
• We have also added Elderberry, Aronia and Black Currant. Nature's best ingredients, in a great tasting, easy to swallow liquid-fast design. Get yours and make any cold "a bust!"
> Order Cold & Flu 16 oz Bottle – Price: $17.95 >
> Order Cold & Flu Packets (20 qty) – Price: $27.95>
---
The World's Purest Omega - 3 As Low As $12.50 per Month**
NEW PRICING and NEW DUO PACK
We've increased our volumes on this top-seller, so we're passing the savings on to you! Why Eniva Fish Oil? IT'S PURE: Tested for more than 500 contaminants & toxins. IT'S POTENT: More than 1000 EPA and DHA (this is key!) IT'S KEY: Essential Fatty Acids make all the difference for • Cardiovascular Health, • Neurologic Health and Mood, • Immune and Joint Health*, • Vision and Ocular Health*, • Healthy Weight and Skin.*
> Order Omega-3 EPA/DHA Efacor (60 count) >
> Order Omega-3 EPA/DHA Efacor (120 count) >
> Order NEW DUO PACK – Omega-3 EPA/DHA Efacor (240 count) >
---
---
Get FREE Shipping with the Repeat Delivery Program!
• Your order ships to you every month — no more running out of your favorite products!
• You can change it at any time.
• Saves you time — no more web ordering or calling in your order.
• Saves you money — Free Shipping on continental US orders, regular ground delivery, up to 40 pounds.
> Simply go to your My Account page and click on Manage My Repeat Delivery button. >

---
Always save 15% when you purchase $250 or more worth of Eniva products.
Discount applied automatically on all orders, including Repeat Delivery orders.
Please Note: Sale pricing and special offers may apply only to regular call-in or online orders and may not be eligible on Repeat Delivery orders. Check each product offer for details. Sale prices good while promotional supplies last.
* Contiguous U.S.; standard ground service; member-priced orders only; 40 pounds or less
** This statement has not been evaluated by the Food and Drug Administration. This product is not intended to diagnose, treat, cure, or prevent any disease.
---
Eniva Health is proud to bring you world class dietary supplements manufactured in our NSF Certified manufacturing facility.