Specials
December Specials – 'Tis the Season for Super Savings!

---
NEW 16 oz Cold & Flu Buster - INTRODUCTORY SALE PRICE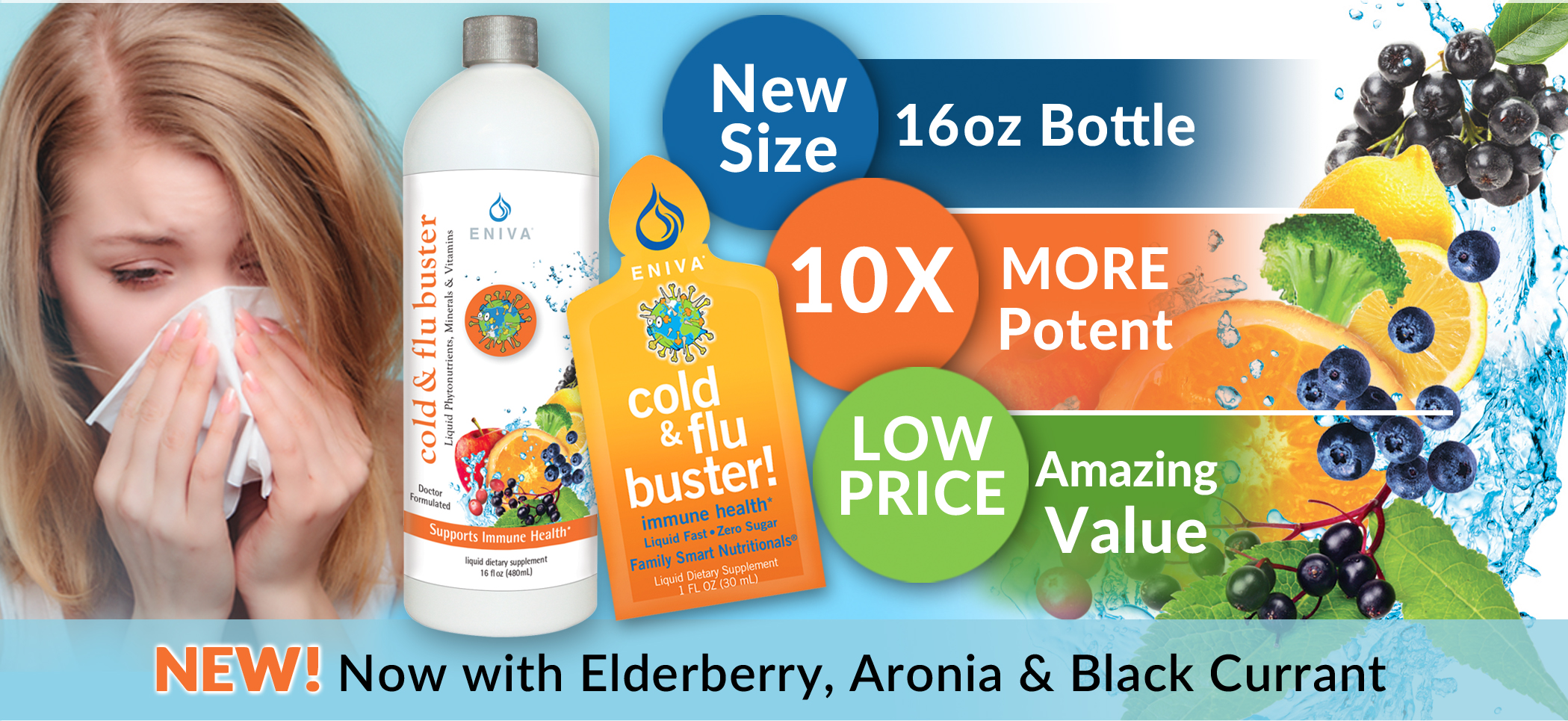 You asked for it, and it's here: the NEW 16 oz bottle of Cold & Flu Buster. It's great to have when more than one person in your household is trying to stay well! The specialized phytonutrient blend is now 10 times more potent — 1500 mg of immune boosting goodness!
• We have also added Elderberry, Aronia and Black Currant. Nature's best ingredients, in a great tasting, easy to swallow liquid-fast design. These bottles will sell out fast — get yours and make any cold "a bust!"
> Order Cold & Flu 16 oz Bottle – Regular Price: $17.95 – Introductory Sale Price: $14.95 >
> Order Cold & Flu Packets (20 qty) – Sale Price: $27.95 >

---
Fight the Fat this Holiday Season!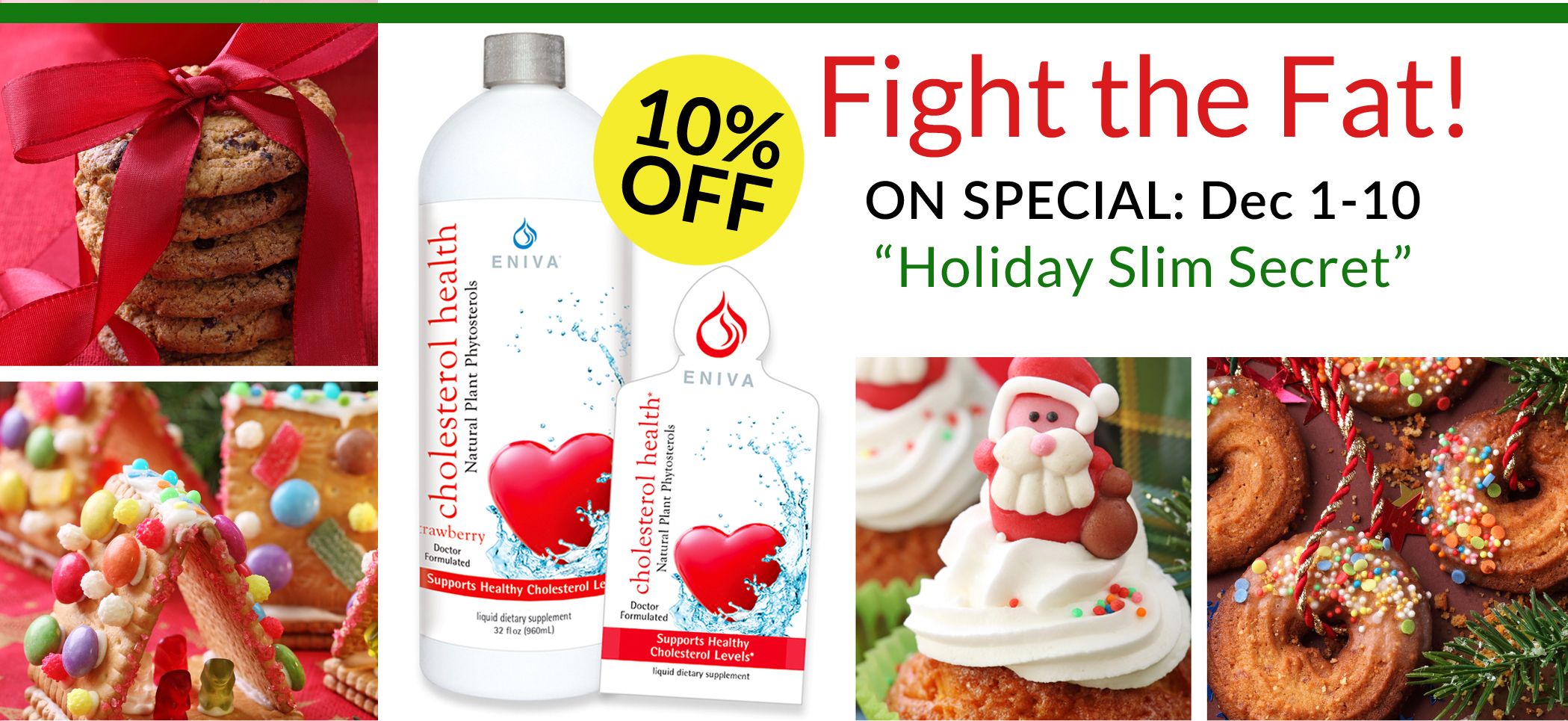 Here's the perfect Holiday Fat Rescue! Enjoy your holiday treats while limiting the fat and cholesterol that end up being absorbed by your body. Natural plant phytosterols are your Holiday buddy. Get a bottle for home and a box of packets to use while you travel. Don't go through the holidays without it. – On special December 1 through 10.
< Order Cholesterol Health (32 oz Bottle) >
< Order Cholesterol Health Packets (20 qyt) >
< Order Cholesterol Health Pack – Bottle & Box of Packets (20 qty) >
---
Pack of the Month: Stress Relief Pack

 – Only $99! (Save $40)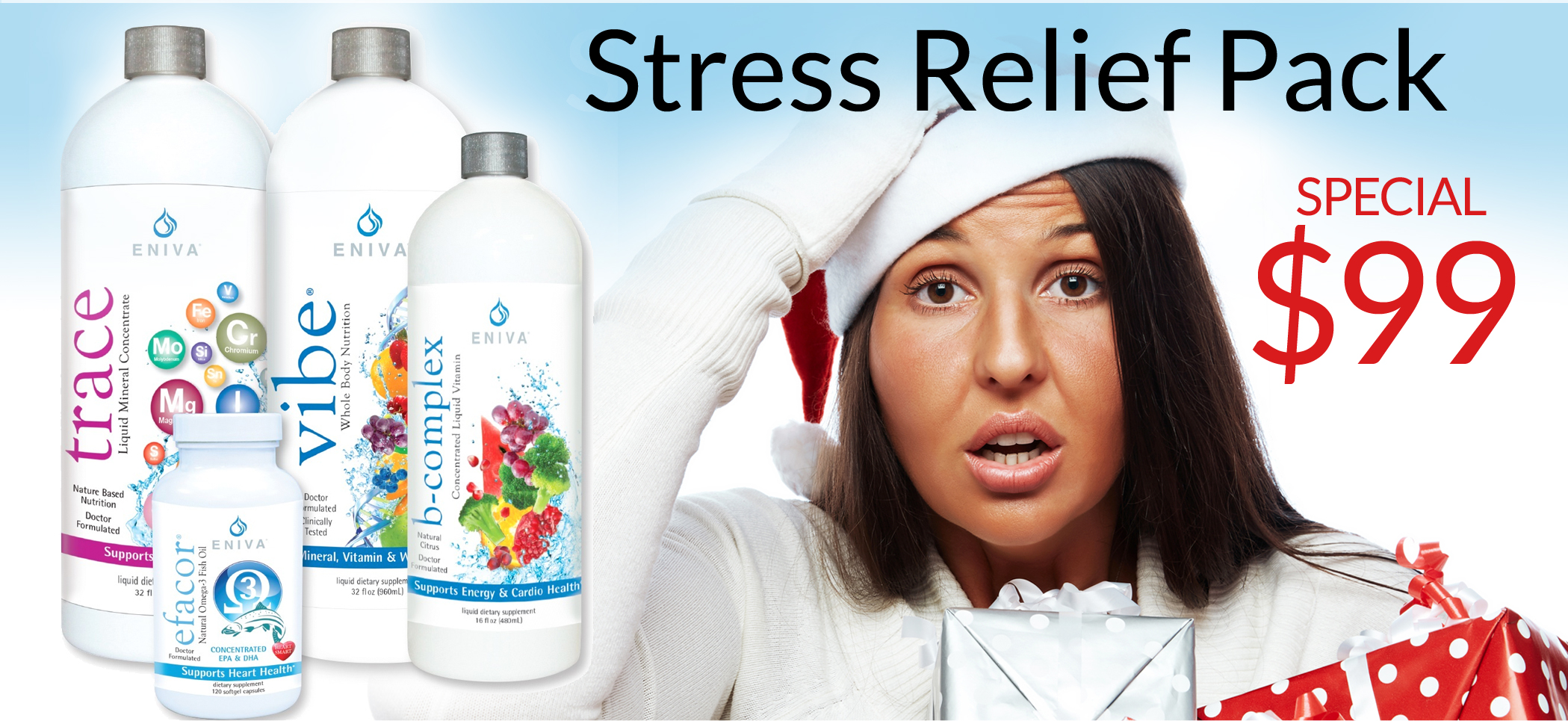 Stay calm and collected during the holidays with the Stress Relief Pack – $99 during December. Wow – savings of $40! Enjoy the special price, and keep the frazzled feelings away.*
> Order Stress Relief Pack – Regular Price: $139.80 – Sale Price through Dec. 31: $99 >
---
Spread the News... Omega-3 EPA/DHA Efacor – NEW PRICING and NEW DUO PACK
We've increased our volumes on this top-seller, so we're passing the savings on to you! Why Eniva Fish Oil? IT'S PURE: Tested for more than 500 contaminants & toxins. IT'S POTENT: More than 1000 EPA and DHA (this is key!) IT'S KEY: Essential Fatty Acids make all the difference for • Cardiovascular Health, • Neurologic Health and Mood, • Immune and Joint Health*, • Vision and Ocular Health*, • Healthy Weight and Skin.*
< Order Omega-3 EPA/DHA Efacor (60 count) >
< Order Omega-3 EPA/DHA Efacor (120 count) >
< Order NEW DUO PACK – Omega-3 EPA/DHA Efacor (240 count) >
---
For the Foodies on Your Gift List: Super Omega-9 Premium Cooking Oil
The Omega-9 Premium Cooking Oil is the gift everyone just loves! With the highest smoke point and Essential Fatty Acids, you can help your friends and family get cooking healthy – without their oil going toxic at high heat. When you purchase 3 Omega-9 Cooling Oils, you'll receive a FREE bottle – all come with "Santa Suits" perfect for gifting.
> Order Omega 9 Cooking Oil >
---
Get FREE Shipping with the Repeat Delivery Program!
• Your order ships to you every month — no more running out of your favorite products!
• You can change it at any time.
• Saves you time — no more web ordering or calling in your order.
• Saves you money — Free Shipping on continental US orders, regular ground delivery, up to 40 pounds.
> Simply go to your My Account page and click on Manage My Repeat Delivery button. >

---
Always save 15% when you purchase $250 or more worth of Eniva products.

Discount applied automatically on all orders, including Repeat Delivery orders.
Please Note: Sale pricing and special offers may apply only to regular call-in or online orders and may not be eligible on Repeat Delivery orders. Check each product offer for details. Sale prices good while promotional supplies last.
* Contiguous U.S.; standard ground service; member-priced orders only; 40 pounds or less

** This statement has not been evaluated by the Food and Drug Administration. This product is not intended to diagnose, treat, cure, or prevent any disease.

---
Eniva Health is proud to bring you world class dietary supplements manufactured in our NSF Certified manufacturing facility.