Eniva Minerals for Life® VanChroZin® Liquid Concentrate is a dietary supplement of Cell-Ready® minerals VANADIUM, CHROMIUM and ZINC in a proprietary nutrient delivery system.
VanChroZin Contains Minerals that Help Support the Body's own efforts for:
• Healthy and normal blood glucose levels, already in a normal range*
• Weight management in combination with a healthy diet, exercise, and lifestyle*
• Normal fertility*
• Healthy and normal growth*
• Healthy sugar levels in the body, already in a normal range*
• Cardiovascular health*
• Healthy lipids*
VanChroZin (symbol "VCZ") is a specialized liquid minerals combination of vanadium, zinc, and chromium supplements designed to help support healthy sugar balance already in a normal range.* Both chromium and vanadium are very special minerals because they activate enzymes associated with sugar balance in the body. Zinc is a mineral that assists with the body's normal processing, storage and secretion of insulin.*
Van Chro Zin is not a picolinate or a gluconate. It is simply pure natural minerals and pure water.
Scientific References: Data on file, Eniva Corporation, 2020.
* This statement has not been evaluated by the Food and Drug Administration. This product is not intended to diagnose, treat, cure, or prevent any disease.
---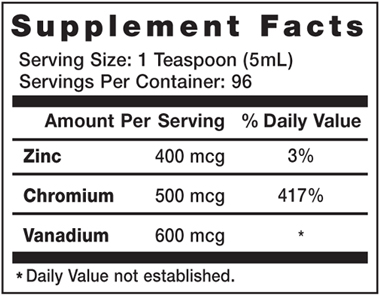 Ingredients: Purified water, vanadium ( from vanadyl sulfate), chromium (from chromium chloride), zinc ( from zinc sulfate).
• No Artificial Colors or Flavors
• Gluten Free
• Diabetic Friendly
• Vegetarian Friendly
• No Fish Ingredients
• No GMO Ingredients
• Cold Processed
• No Irradiation
• No Pasteurization
Directions: Adults: 1 Teaspoon Daily (5mL). For blood sugar health take 1 Teaspoon twice daily before two largest meals. Shake well before using.

Recommendations: May combine with 8 ounces of water / juice.
Storage Directions: Avoid freezing and heat.
Caution: Do not consume if tamper resistant seal is broken/missing. Do not consume if allergic to components found within product. As with all dietary supplements, contact your doctor before use. If taking prescription medications, have an ongoing medical condition, are pregnant, nursing or under age 18, consult doctor before use. Isolated vitamins or nutrients are best taken as part of a well balanced diet and broad supplement program. KEEP CAP TIGHTLY CLOSED. KEEP OUT OF REACH OF CHILDREN.