Clean and Lean*... now with a New Look!
Heart Healthy Cooking Oil a premium blend of hexane-free, pure-pressed avocado and safflower oils, with a clean, delicate Omega 9 oil flavor that doesn't interfere with the flavor of food. Heart Healthy Cooking Oil is the gourmet exquisitely blended for taste and health. It is loaded with stable omega fatty acids that contribute to good health, similar to olive oil, so prominent in the healthy Mediterranean diet, without the taste of olive oil. The healthy fatty acids in this product support the body's own efforts at heart health, lipid profiles, brain function, and hormonal balance.*
Essential Fatty Acids Support:
• Metabolism and aid in natural fat loss*

• Utilization of antioxidants*

• Cardiovascular system*

• Skin and nails*

• Joints*

• Immune function*

• Neurological systems*
EFAs contribute to good health, similar to olive oil, without the strong taste of olive oil. It actually brings out the wonderful flavor of the food it's being cooked with.
• Excellent for baking, frying, sautéing, grilling and deep frying!
• Use whenever you need to add cooking oil for recipes.
Heart Healthy Cooking Oil is a healthy cooking oil composed of roughly 85% healthy monounsaturated and cis-cis polyunsaturated fats. It is approximately 75% oleic acid (a monounsaturated omega 9 fatty acid). Omega 9 also contains naturally occurring vitamin E. In addition, it has no cholesterol and is highly stable when heated – compared to polyunsaturated oils which degrade faster with heat.
We don't know of any oils you can buy that are blended for their nutritive value and for the flavor professional chefs demand. Now you can fry without guilt, get delicious results, and create a healthier you! Now you have the missing link for any home-cooked meal – Eniva Heart Healthy Cooking Oil." So go ahead, fry it up!
Scientific References: Data on file, Eniva Corporation, 2019.
* This statement has not been evaluated by the Food and Drug Administration. This product is not intended to diagnose, treat, cure, or prevent any disease.
---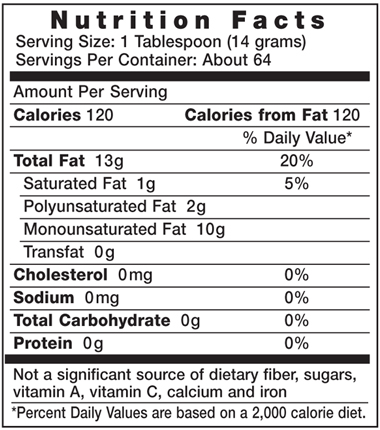 Other Ingredients: Pressed and refined high oleic safflower oil, pressed and refined avocado oil.
• No Artificial Colors or Flavors
• Gluten Free
• Diabetic Friendly
• Vegetarian & Vegan Friendly
• No Fish Ingredients
• Cold Processed
• No Irradiation
• No Pasteurization

GUARANTEED PURITY

Usage: Excellent for baking, frying, sautéing, grilling and deep frying.
To prevent oil spattering, wipe excessive water from food before adding to hot oil.
Wear eye protection.
Avoid excessive heating of oil.
Storage Directions: Avoid freezing and heat. Keep refrigerated upon receipt and after opening.

Note: When Omega 9 is refrigerated, it may turn cloudy due to the cold temperature. It will turn clear when it is brought to room temperature.
Caution: Do not consume if tamper resistant seal is broken/missing. Do not consume if allergic to components within product. Oil can catch fire if exposed to excessive heat or direct flame. Turn off heat source and cover to extinguish flame. KEEP CAP TIGHTLY CLOSED. KEEP OUT OF REACH OF CHILDREN.
Reviews
Really like this cooking oil. High quality, good taste.

I love the Heart Healthy cooking Oil. It is delicious to eat drizzled on meat or salad or cooked vegetables. I eat it everyday for lunch and dinner, and I enjoy it every meal. It is a perfect and healthy way to moisturize food, without additives or unhealthy ingredients.

My brother begs me for this

My brother started using my oil once, and he got hooked. Loves it. now he asks me all the time if he can have some of mine ... I told him to order his own -- LOL.

This is a wonderful product and does not at all change the tase of any food Highly recommended!

This product is so much better than what I used to use. The flavor is amazing. Great price.

I am glad I started using this excellent oil. I feel good knowing that I am using a very healthy oil. I urge all to get this from Eniva.

This is such a great quality oil. We use it on so many things from salads to making the most amazing french toast on the planet....trust me! I'm using it now as we speak to baste some chicken and salmon on the grill. Delicious and with zero guilt!