10% Off During April: Save $4.50 per 32 oz Bottle or 20 Count Box (Discount will be applied at Checkout)
Eniva® UltraSHOT™ is a "GOOD FOR YOU", advanced energy supplement,
scientifically-formulated with ultra-potent and ultra-pure healthy nutrients provided by nature to enhance energy levels and increase stamina. The natural ingredients combine to create energy boosting supplements you'll love to take!
UltraSHOT - Health Benefits
AntiOxidant Strength: UltraSHOT has the antioxidant equivalent of 2 servings of fresh FRUITS & VEGETABLES. (Based on ORAC Antioxidant Score)
Antioxidants Help Support:
• Ability to counteract damaging free radicals that can accelerate aging*
• Mental clarity and well-being*
• Energy supplement and stamina*
• Health of cellular DNA*
11 Different Fruits Plus 2 Vegetables!
• Apple
• Grape
• Blueberry
• Chokeberry
• Elderberry
• Cherry
• Blackcurrant
• Lemon
• Cranberry
• Pomegranate
• Wolfberry (Goji)
• Carrot
• Pumpkin
4 Power Blends All in ONE SHOT to Wake Up your Senses:
• Energy Boost Blend* - Boost energy levels with proprietary blend of specialized vitamins and minerals
• Energy Antioxidant Berry Blend* - Phytonutrients defend against free radical cell damage*
• Energetic Focus & Vitality Blend* - Invigorate energy production and enhance sexual function with exotic herbals*
• Protein Endurance Blend* - Fuel stamina with the building blocks of protein*
The UltraSHOT Difference
With hundreds of energy drinks on the market, why choose UltraSHOT? The creation of UltraSHOT began with the quest to create a concentrated energy supplement that would stand out among the rest -- one that is healthy AND actually delivers remarkable performance.
Vitamin Impact - Vitamin B-Complex
Many energy supplements and drinks list B-vitamins on their packaging, but how many B-vitamins? If you compare brands, you'll find most include 2, perhaps 3, B-vitamins in their ingredient list. Eniva UltraSHOT boasts 7 different B-vitamins in its formula. Why is this a big deal? Since B-vitamins work synergistically with each other to have maximum effect on the body, UltraSHOT is equipped with a full array of energy-producing and stress-fighting vitamins to make a real impact.* UltraSHOT contains Vitamins B1 (Thiamin), B2 (Riboflavin), B3 (Niacin), B5 (Pantothenic Acid), B6 (Pyridoxine), Folate and B12. One of the reasons you don't get sustained energy from other products is because they are missing the full B-vitamin mix!
Mineral Balance
Another unique feature of UltraSHOT is its proprietary liquid mineral blend. The minerals Chromium, Manganese and Vanadium are selected specifically for their support of cellular energy and blood sugar health.* The body burns food, fats and nutrients (fuel) and creates energy in this process. The role of aiding in the metabolism of fat and carbohydrates as well as supporting blood sugar health is significant when it comes to helping re-energize the body. * When the body undergoes stress, it needs to repair, recover and prepare for the next round of exertion. The minerals in UltraSHOT help restore needed nutrients and help regulate blood sugar levels.*
Exotic Herbals
Extensive research supports the use of botanicals to enhance and support vitality in the body.* This is why you see more and more energy drinks include herbal components for enhanced benefit. Most products only contain 2 or 3 herbal components, and this is typically where they stop. But when you look at the ingredient list for UltraSHOT, you'll see it's packed with a synergistic blend of impressive herbal phytonutrients including:
• Maca
• Panax Ginseng
• Ashwagandha
• Rhodiola
• Suma
• Epimedium Grandiflorum (Horny Goat Weed)
- These exotic herbals each perform unique roles to aid mental focus, endurance, sexual arousal and circulation.
What is NOT in UltraSHOT
SAY NO to Artificial Ingredients, High Sugars and Hype!
• No High Sugar Overdose
• No Artificial Sweeteners
• No Artificial Flavors
• No Artificial Colors
• No Phenylalanine
• No Fat
SAY YES to Natural Healthy Vitality!
Aqueous Stabilization™: Eniva's liquid proprietary nutrient stabilization process.
Scientific References: Data on file, Eniva Corporation, 2017.
---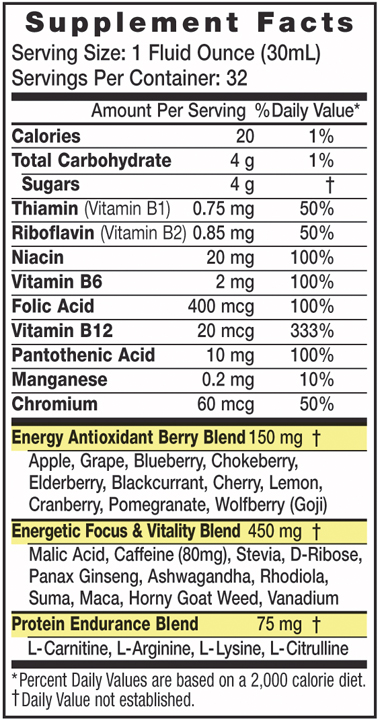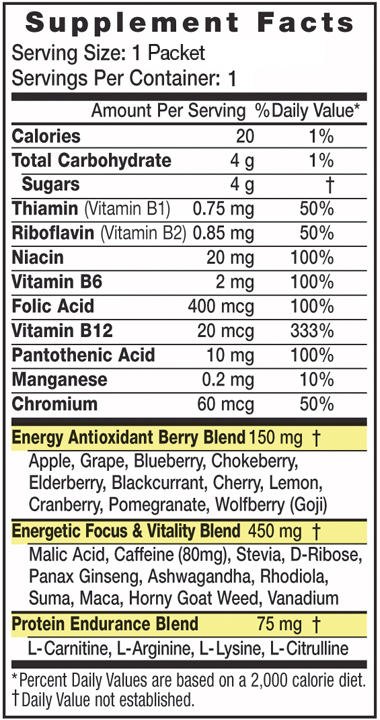 Ingredients: Purified water, natural sugars (beet, d-ribose), natural extracts (apple, grape, blueberry, panax ginseng [root], ashwagandha-withania somnifera [root], rhodiola rosea [root], suma-pfaffia paniculata [root], macalepidium meyenii [root], horny goat weed-epimedium grandiflorum [plant], stevia [leaf], chokeberry, elderberry, blackcurrant, carrot, hibiscus [flower], cherry, pumpkin, lemon, cranberry, pomegranate, wolfberry [goji]), malic acid, citric acid, natural berry flavor, caffeine, ascorbic acid, l-carnitine fumarate, sorbic and/or benzoic acid(s) (protect freshness), l-arginine hcl, xanthan gum, niacin (from nicotinic acid), d-calcium pantothenate, l-lysine, folic acid, l-citrulline, pyridoxine hcl, riboflavin phosphate, thiamine hcl, manganese (from manganous chloride), chromium (from chromium chloride), cyanocobalamin, vanadium (from vanadyl sulfate).
• No Artificial Colors or Flavors
• No Phenylalanine
• Diabetic Friendly
• Gluten Free
• Vegetarian Friendly
• No Fish Ingredients
• No GMO Ingredients
• Cold Processed
• No Irradiation
• No Pasteurization
Directions: Adults: 1-2 Ounces Daily (60mL).
DO NOT EXCEED: Men: 3 oz. daily; Women: 2 oz. daily.
Shake well before using.
Recommendations: May Combine with 8 ounces of water/ juice.
Storage Directions: Avoid freezing and heat. Refrigerate after opening
Caution: Do not consume if tamper resistant seal is broken/missing. Do not consume if allergic to any component within product. As with all dietary supplements, contact your doctor before use. If taking prescriptions, have ongoing medical conditions, pregnant, nursing or under age 14. Consult doctor before use. KEEP CAP TIGHTLY CLOSED. KEEP OUT OF REACHOF CHILDREN. Contains nearly as much caffeine as a gourmet cup of coffee. Limit caffeine intake from other sources to avoid nervousness, sleeplessness and occasional rapid heart beat.

Potential Risks: DO NOT TAKE MORE THAN RECOMMENDED DAILY AMOUNT. Follow directions closely. As with other energy drinks/products, overdosing can result in an increased heart rate, heart palpitations, tachyarrhythmia, irregular heartbeat, cardiac arrest and even death. Upset stomach, cramps and/or vomiting can also occur. A niacin flush (hot prickly feeling and redness of the skin lasting several minutes) can also occur with increased dosage. Use caution when administering to adults who may be consuming alcohol and have an impaired sense of judgment.
Reviews
Works great, no crash later, & tastes great.

I definitely notice a boost in my mental clarity. I also really enjoy the taste.

I love to take Ultra Shot in the morning with Eniva's Whey Protein. I enjoy the energy they provide me, without the issues coffee/caffeine can cause. No jitters, no crashing.

I initially took this product for a migraine headache over a year-and-a-half ago. (A friend gave me a sample.) It relieved my headache so quickly that I decided to purchase the product.
I've tried OTC products, headache drops and a variety of other herbal products.
The Ultra Shot gives me quick relief (5-15 minutes). Great product.

We absolutely LOVE this product. No spikes or lows; no junk; pure excellence.

The packages are convenient for me to carry to work, on the road or at home. The Taste is very pleasant, much like a fruit juice, and no aftertaste. This is a godsend for me. I highly recommend this product.

Natural Functional Energy

UltraShot is a truly remarkable solution for safe and effective natural energy without the highs and lows of caffeine, sugar or synthetic ingredients.

Best all-natural Pre-workout and energy boost product on the market today.

I am a Master Certified Trainer and Nutritionist and me and my clients LOVE these all natural Ultra shots! We use them as a pre-workout boost and energy shot to help us perform better throughout our workouts at the gym. Best of all it's all-natural with a full spectrum of amino acids and B vitamins without the high sugars content you will find in other energy drinks.

I like a pick me up but I don't like artificial toxins and refined sugars in my body. Ultrashot is the cleanest energy supplement I've found that actually works great. Plus you get the benefit of all the antioxidants in it.