Vitamin B-Complex High Potency Liquid Formula
9 B-Vitamins. For Energy, Mood & Brain, Nervous System, Heart, Red Blood Cells, Skin & Hair*
Vitamin B-Complex High Potency Liquid Formula
9 B-Vitamins. For Energy, Mood & Brain, Nervous System, Heart, Red Blood Cells, Skin & Hair*
---
On Sale Now: Save 10%
Synergy of B-Vitamins: Full Body Wellbeing & Reclaim your Inner Calm
Energy • Balance Stress • Mood*
Take Care of Your Nervous System & Heart Health Eniva Vitamin B-Complex Liquid Concentrate provides a full spectrum of B vitamins which plays many valuable roles in the human body, including support of heart health, nerve function, neurologic health, normal mood, metabolism, skin and the immune system.*
HIGH-POTENCY VITAMIN B BENEFITS*

Neurologic
• Nerve Function • Memory*

Emotional
• Healthy Mood*
• Stress Management*

Cardiovascular
• Blood Vessel and Heart Health*
• Healthy Homocystine Levels*
• Red Blood Cell Health*

HOW'S YOUR
STRESS-O-METER?

• B-Vitamins play a key role in the health of your nervous system and brain including helping your body deal with stress.*

• Vitamins B1, B2, B3, B6 and B12 are especially involved in the health of your nervous system.*

• B-Vitamins are also critical for assisting your body make energy – a key factor in how your body responds to stress.*
HIGH-POTENCY VITAMIN B BENEFITS*

Did You Know?
• Most B-vitamins (except B12 & Folate) can't be efficiently stored by the body.
– The B-vitamins need to be replaced routinely.
Aging & Support with B Vitamins
• The Eniva Vitamin B Complex liquid formula addresses nutritional deficiencies that may occur as an individual ages.*
"Taking Eniva liquid B-Complex every day has really helped. We have had a lot of stressful news lately which has affected our family, and taking this vitamin has helped us handle the stress effectively. Thank you for having it available!"
– Constance C.

HOW ENIVA B COMPLEX LIQUID VITAMINS WORK

The various liquid B vitamins work in synergy with each other to have maximum effect on the body.* – The interaction of multiple B vitamins that when combined produce a total effect that is greater than the use of a single B vitamin.
Vitally important is the role that B vitamins play in converting the food we eat into energy. Acting together, they can re-energize the body for optimal health.*
LIQUID FAST

The proprietary liquid design of Eniva Full Spectrum B-Complex supports the body's general health, vital energy functions, enhanced nutrient absorption and body wellbeing.*
Eniva's B-Complex Liquid Supplement has already performed the initial steps the body undertakes when trying to assimilate vitamins — to put them in a completely bio-available form to be quickly and easily utilized by the body.
The specific balance of vitamins including NATURAL whole food based components and the technology used to produce the Vitamin B Complex Liquid sets it apart from other supplement options. It's the B-Boost that makes a difference in wellbeing.
A FULL SPECTRUM OF B VITAMINS
PLUS, WHOLE FOOD SOURCES
9 Liquid B Vitamins
5 Whole Food Phytonutrients
THE GOODNESS OF
FRUITS & VEGGIES
This Full-Spectrum B-Phytonutrient Blend Contains Essential Nutrients From:
• Pomegranate
• Broccoli
• Watermelon
• Orange
• Grape Seed
Where & How is is Made?

This supplement is made in the USA at Eniva's FDA registered, MNDA certified and cGMP compliant facility in Minneapolis, Minnesota. Eniva Vitamin B-Complex Liquid Concentrate is carefully made to protect the freshness and potency of its nutrients:
Cold Blended
Non-Pasteurized
Non-Irradiated
WE MAKE OUR OWN



• It's important to know who and where your products come from!
• Made in Minnesota.
• Eniva products are USA produced.
• We manufacture onsite at our own certified manufacturing facility in Minnesota.
• For nearly 25 years, we've been delivering premium quality supplements to millions of people.
OUR PROMISE TO YOU
SAFETY - QUALITY - EFFECTIVENESS
• We care about your experience.
• If a customer is not pleased with any product purchase, we will offer a refund or exchange.
• All products are refundable/exchangeable within 30 days of purchase.
• We are committed to providing outstanding customer care for you.
*This statement has not been evaluated by the Food and Drug Administration. This product is not intended to diagnose, treat, cure, or prevent any disease.
On Sale Now: Save 10%
Fast-absorbing, LIQUID formula containing 9 B-Complex Vitamins combined with natural whole food extracts to help optimize your body's wellbeing.*
DOCTOR FORMULATED No artificial sweeteners, flavors or colors. Diabetic safe with 0 carbs. 32 Servings.
KEY INGREDIENTS Includes Methyl B12 and Methyl Folate(B9) vitamin forms along with B1, B2, B3, B5, B6, B7(Biotin), B8 (Inositol), and pomegranate, watermelon, grape seed, broccoli and orange.
BENEFITS EMOTIONAL: Healthy mood and Stress management.* NEUROLOGIC: Nerve function, Brain Function, Memory.* CARDIOVASCULAR: Blood vessel and heart health, Healthy homocysteine levels, Red blood cell health.* METABOLISM & ENERGY: Carbohydrate processing and cofactors for nutrient absorption.* SKIN, HAIR & NAILS health support.*
DIRECTIONS Adults: 1 Tablespoon daily. 32 servings included in bottle.
MANUFACTURED in Eniva's own certified and inspected GMP facility in the USA.
Vitamin B-Complex High Potency Liquid Formula (16 oz)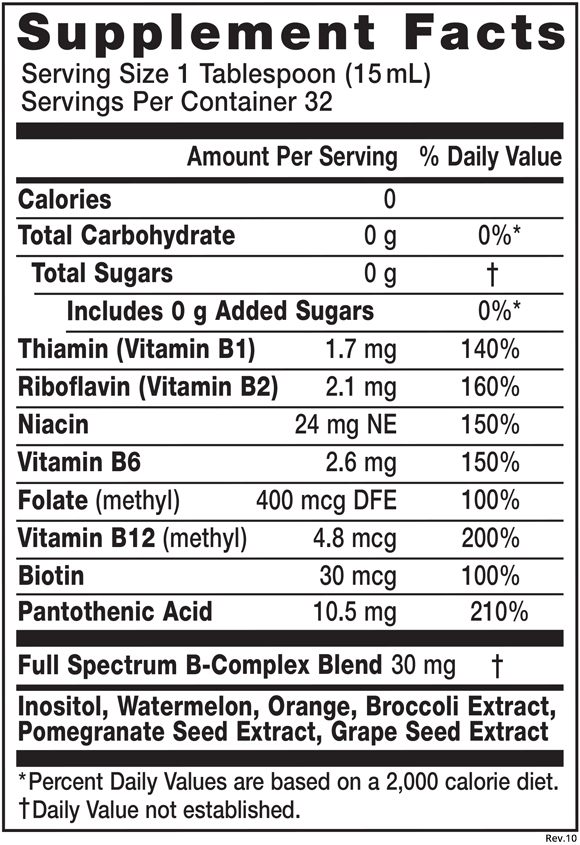 Ingredients: Purified water, natural flavors, citric acid, inositol, niacin, sorbic and/or benzoic acid(s) (protect freshness), organic stevia leaf extract, xanthan gum, d-calcium pantothenate, pyridoxine hydrochloride, riboflavin phosphate, thiamine hydro-chloride, l-methylfolate calcium, broccoli extract, pomegranate seed extract, grape seed extract, biotin, methylcobalamin.
• Gluten, Soy & Dairy Free
• Non GMO
• Vegan
• Zero Sugar & Zero Carbs
• No Artificial Colors, Flavors or Sweeteners
• BPA Free Bottle
Directions:
Adults: 1 serving daily.
Shake well before using.
Combine with water or juice.
Storage:
Avoid excessive heat.
Refrigerate after opening.
Caution: Do not consume if tamper resistant seal is broken or missing. Do not consume if allergic to ingredients. As with all dietary supplements, contact your doctor before use. If taking prescriptions, have an ongoing medical condition, pregnant, nursing or under age 18, consult doctor before use. KEEP CAP TIGHTLY CLOSED. KEEP OUT OF REACH OF CHILDREN.