Eniva® Liquid Chlorophyll Plus
• DETOX • HEALTHY SKIN • BODY DEODORIZER*
The Eniva Liquid Chlorophyll Plus Supergreens is a combination of cold-blended chlorophyll and specialized botanicals. Cleansing and conditioning are important for blood, intestinal and digestive health.* In particular, your liver helps detoxify the body. Like other key organs, your liver requires adequate nutrition in order to function properly.

This cold processed, natural formula contains specialized liquid chlorophyllins plus the addition of L-glutamine, Inulin, Lemon and Apple Extracts to promote blood, digestive health while supporting body deodorizing (including the bowels) and detoxification pathways.*
• Chlorophyll: The specialized green pigment in plants which harnesses the sun's energy for photosynthesis. Chlorophyll is similar in structure to the hemoglobin molecule found in human blood. Within the plant, it performs multiple metabolic functions including respiration and growth.
Broad spectrum body conditioner, detoxifier and deodorizer.*
• L-glutamine: An amino acid which directly supports and nourishes the health of the intestines.*
• Inulin: A prebiotic component that supports regularity, immune function and the growth of healthy bacteria in the gut.*
• Lemon and Apple Extracts: Provides broad spectrum naturally occurring phytonutrients supporting natural body detoxifying pathways.*
Health Benefits of Chlorophyll+ and Body Conditioner Formula
Internal Conditioner*

Body Odor / Deodorizer*

Healthy Skin*

Digestive Tract Detoxifier*

Healthy Oxygenation*

Healthy Cellular Membranes*

Intestinal Health*

Circulatory Health*
Nature's First Gift for Wellness
Since the beginning of time, chlorophyll has been a symbol of life. Before man discovered fire or learned to hunt animals, he ate green plants. The "green" was chlorophyll, a substance responsible for absorbing and harnessing the energy of the sun involved in photosynthesis. As nature's first gift, chlorophyll continues to nourish and promote wellness.*

Chlorophyll in plants performs metabolic functions such as respiration and growth. Interestingly, the chlorophyll molecule is chemically similar to human blood, except that its central atom is magnesium. In humans, this central atom is iron. Liquid chlorophyll is highly valued for its ability to support blood oxygenation and help the body cleanse itself naturally, especially the liver and blood.*
Eniva's Liquid Chlorophyll is Paraben Free!
Be assured that Eniva Liquid chlorophyll is paraben free, using natural compounds for preservation.
Until recently, parabens (a family of synthetic cosmetic and food preservatives) were considered among those preservatives with low systemic toxicity, primarily causing allergic reactions. However, researchers' understanding of this class of synthetic preservatives is now changing in light of new clinical evidence in relation to the female hormone estrogen. Researchers from the Department of Biology & Biochemistry, Brunel University, Uxbridge, Middlesex, England, have found that the parabens, namely methyl-, ethyl-, propyl- and butylparaben, are estrogenic. This means they have a hormone like activity on tissues sensitive to estrogen - primarily uterine and breast tissues.

The recently discovered estrogenic effects of certain synthetic chemicals, such as parabens, and their subsequent effects on the endocrine system of humans and wildlife, is of growing concern-especially in relation to women's risk for breast cancer. Reproductive abnormalities in young boys exposed to such chemicals either prior to puberty or as fetuses also may increase risks for undescended testicles, testicular cancer, sperm abnormalities and prostate disorders.
Scientific References: Data on file, Eniva Corporation, 2021.

* This statement has not been evaluated by the Food and Drug Administration. This product is not intended to diagnose, treat, cure, or prevent any disease.
Concentrated liquid chlorophyll enhanced with a blend of Lemon Extract, Apple Extract, Chicory Root and L-Glutamine

For body conditioning, detox, cleansing, healthy skin, body odor, vitality and energy*

250mg per serving total nutrient blend enhanced Chlorophyll Formula.

No artificial flavors, colors or sweeteners. Non pasteurized. Non irradiated. Cold blended.

Gluten Free, Dairy Free, Paraben Free, Alcohol Free, Vegan Friendly

Manufactured in the USA at Eniva's FDA registered facility, GMP certified
Chlorophyll+ Liquid Greens Complex (16 oz)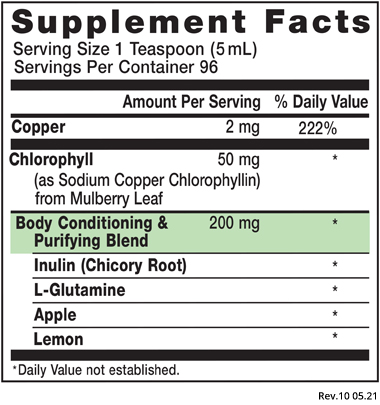 Other Ingredients: Purified water (multi-loop UV treated, deionized, microfiltered), natural flavors (extracts and essential oils), malic acid, xanthan gum, sorbic and/or benzoic acid(s) (protect freshness), organic stevia leaf extract.
• Vegan
• Gluten, Soy & Lactose Free
• Non-GMO
• Zero Sugar & Zero Carbs
• Paraben Free & Alcohol Free
• No Artificial Colors, Flavors or Sweeteners
• BPA Free Bottle
Directions:
Adults: 1 Teaspoon daily (5 mL).
Mix with 8 ounces of liquid.
Shake bottle well before using.
• It is recommended to not exceed 3 Teaspoons daily.
Storage:
Avoid excessive heat.
Best if refrigerated after opening.
Caution: Do not consume if tamper resistant seal is broken or missing. Do not consume if allergic to ingredients, if you have Wilson's Disease or a copper processing abnormality. As with all dietary supplements, contact your doctor before use. If taking prescriptions, have an ongoing medical condition, pregnant, nursing or under age 18, consult doctor before use. KEEP CAP TIGHTLY CLOSED. KEEP OUT OF REACH OF CHILDREN.