Probiotic & Prebiotic Healthy Gut Formula (Probiotic+)
Digestive System Comfort. Gut health & GI tract support. Relief from occasional gas and bloating.*
Probiotic & Prebiotic Healthy Gut Formula (Probiotic+)
Digestive System Comfort. Gut health & GI tract support. Relief from occasional gas and bloating.*
Due to high demand, product will ship Nov. 27

---

Maximum Purchase:

8 units
Digestive Comfort & Balance with Eniva Probiotic+*
Calm the Gut • Optimize Gut Flora*
Wellbeing Begins in the Gut. Eniva Probiotic+™ is a nutraceutical supplement designed to support the health and comfort of the digestive system and overall body function.*
FORMULATED WITH CARE
FOR REAL RESULTS

• 50 Billion CFU Per Serving
• 10 Strains – Maximum strains is ideal
• Patented Release Capsule – Protects through stomach acid, until the capsule can reach the intestines where it then will release (the intestines is the ideal destination for release)
• Sunfiber® – High-value patented Prebiotic
• Uniquely Lined Bottle – Does not require refrigeration, preserves freshness and potency
• Slightly Smaller Bottle – Saves space in your cupboard
BENEFITS OF PROBIOTIC+

• Healthy Balance of Intestinal Flora*
• Helpful Bacteria Aids Balanced Digestive & Intestinal Environments For Proper Nutrient Absorption*
• Comfort for Occasional GI Distress*
• Bowel Regularity*
• Colon Health*
• Healthy Beneficial Bacteria*
• Immune Health
• Cognitive Function*

Ease of Use – Effective Delivery

Probiotic+ has been manufactured and formulated with care. This advanced formula is delivered in easy-to-swallow vegetable capsules designed for delayed release until the ingredients reach the intestines. This Patented Release Capsule protects the nutrients while traveling through stomach acid, until the capsule can reach the intestines, its ideal location for release.
• Easy screw-top bottle helps retain potency of formula, eliminating the need to refrigerate.
• Vegan-friendly capsules and exceptional barrier bottle are all quality features that help protect the beneficial contents of the formula.
Enjoy the foods you love – without extra trips to the bathroom!


A CLOSER LOOK AT BACTERIA

• Bacteria are a large and diverse population, and can change depending on age, diet, medical conditions and the use of supplements. When the overall
flora of the intestines is changed and the amount of healthy bacteria is reduced, the body goes out of balance.

• Probiotic bacteria help balance the flora, out-compete the growth of harmful bacteria, and support the body's digestive, immune and nutritional functions.

• People with flourishing, properly balanced bacterial colonies are well-equipped to fight the growth of harmful bacteria.
ENIVA PROBIOTIC+ HAS A COMPLETE PROFILE
OF BOTH PREBIOTICS & PROBIOTICS
What are Prebiotics?

Prebiotics are a special type of soluble fiber generally used by the Probiotics as fuel. Both work synergistically to impact many outcomes for health.

What are Probiotics?
Probiotics produce substances that help establish intestinal balance and serve as a healthy nutrition source for the colon's own flora.
Eniva Probiotic+ is Pure & Clean

• Soy Free
• Gluten Free
• Zero Sugar
• Dairy Free
• Gluten Free
• Vegetarian
• Diabetic Friendly
• No Wheat, No Eggs
• Free from Artificial Sweeteners
• Free from Artificial Flavors
• Free from Artificial Colors
Blog Article: Learn More – Read Blog Post: Your Gut… The Gateway to Good Health

WE MAKE OUR OWN



• It's important to know who and where your products come from!
• Made in Minnesota.
• Eniva products are USA produced.
• We manufacture onsite at our own certified manufacturing facility in Minnesota.
• For over 20 years, we've been delivering premium quality supplements to millions of people.
OUR PROMISE TO YOU
100% SATISFACTION GUARANTEE
• We care about your experience.
• If a customer is not pleased with any product purchase, we will offer a refund or exchange.
• All products are refundable/exchangeable within 30 days of purchase.
• We are committed to providing outstanding customer care for you.
* This statement has not been evaluated by the Food and Drug Administration. This product is not intended to diagnose, treat, cure, or prevent any disease.
50 Billion CFU PER 1 CAPSULE SERVING. Use for Digestive Health, Immunity and Bowel Regularity.

MADE IN THE USA IN GMP CERTIFIED LAB for maximum good colon bacteria, cholesterol and blood pressure support. Assists with colon flora, triglycerides and also addresses flatus smell.

QUALITY PREBIOTIC / PROBIOTIC SUPPLEMENT that assists calcium absorption for bone health, supports vitamin production and promotes daily relief from occasional allergies, gas, bloating and constipation.

NATURE BASED PREBIOTIC & PROBIOTIC INGREDIENTS which helps support appetite, normal weight, urinary tract, yeast levels and skin health.

GI tract support that can help you be strong when dealing with fatigue, stress, and inflammatory factors. Safe, USA made product with no fillers or binders.
Probiotic & Prebiotic Healthy Gut Formula (Probiotic+)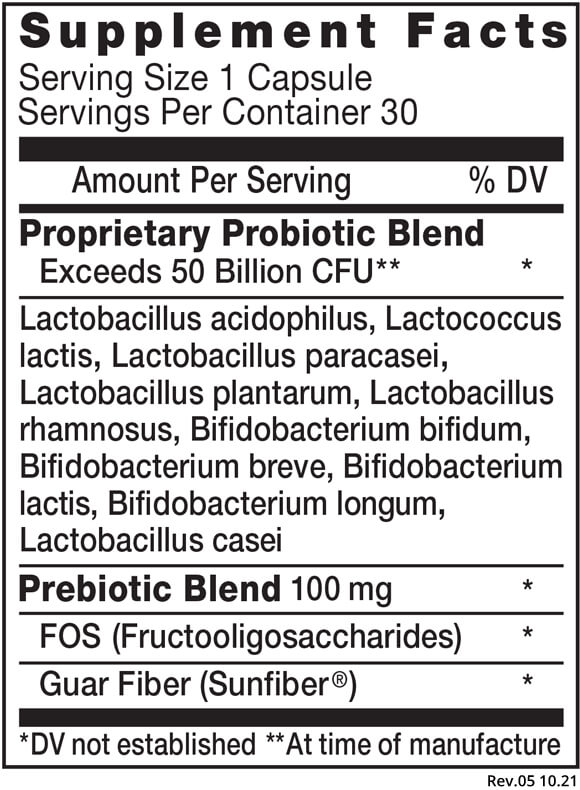 Other Ingredients: Patented release capsules (hypromellose, gellan gum), stearic acid, silicon dioxide.
Dairy Free
Soy Free
Gluten Free
Zero Sugar
No Artificial Flavors
No Wheat
No Eggs
Directions:
Adults: 1 capsule daily before mealtime, preferably in the morning. For occasional GI discomfort, may take up to 4 capsules per day.
Storage Directions: No refrigeration necessary. Avoid freezing and heat.
CAUTION: Do not consume if tamper resistant seal is broken or missing. Do not consume if you are allergic to ingredients. As with all dietary supplements, consult your doctor before use. If taking prescriptions, have ongoing medical condition, pregnant, nursing or under age 14, consult doctor before use. Keep cap tightly closed. Keep out of reach of children.