Eniva Cold Buster contains Honey, Zinc, Elderberry, Vitamin C, Vitamin D, Echinacea, and other plant based nutrients to help support your immune system.*
Key Ingredients
• Zinc • Elderberry • Echinacea • Vitamin C • Chamomile • Aronia
• Honey • Green Tea • Vitamin D • Apple • Orange • Black Currant
• Lemon • Cranberry • Blueberry • Broccoli • Oregano • Lemon... Plus more!
Liquid Fast
Goes to work quickly in your body

Easy to swallow formula, no tablets to choke down

Ready to go, no messy powders to mix

No sugary gummies that stick to your teeth
Dr. Formulated
Based in nutritional science

Scientifically researched
Eniva® Cold Buster contains a powerful combination of cold processed phytonutrients in addition to vitamins, minerals and antioxidants to support normal immune health.* A synergistic blend of bio-available vegetables and fruits, vitamins, minerals, antioxidants, polyphenols, green tea, herbals and more, Cold Buster helps support well-being even when your body experiences day-to-day challenges. It utilizes Eniva's proprietary Solutomic™ technology to provide liquid nutrition for maximum effectiveness.*
Available in Single-Serve Packets
This liquid fast formula also comes in a convenient single serve packet, easy to put in your purse, bag or pocket when you travel to the gym, office or a vacation destination.
Supports Wellbeing*
The exclusive combination of nutrients found in Cold Buster help sustain the immune system's complicated network of organs, cell tissues, and chemicals.
Healthy functioning of body processes*

A proper balance of antioxidant agents*

Feelings of energy and vitality*

Body pH balance*
How Cold Buster Works
Eniva cell-ready Cold Buster's combination of vitamins, minerals, herbals, green tea, and antioxidant-rich fruits and vegetables help fill in nutrient gaps with critical nutrition the body needs to keep its immune system functioning normally.* Cold Buster helps you replenish needed cofactors for normal functioning of immune cells and contribute to feelings of vibrancy and resilience.*
A Power-Packed Lineup of Vitamins and Minerals
Vitamin C is a water-soluble vitamin and powerful antioxidant, which helps the body form and maintain connective tissue, including bones, blood vessels, and skin, while supporting the body's general health and vital immune functions.* It supports white blood cell function and overall antibody responses.*
Vitamin D is an important factor in immune system health. Getting a sufficient amount of vitamin D is important for normal, healthy immune function, as well as growth and development of bones and teeth and healthy cellular replication.*
Calcium is one of the most vital minerals for optimal functioning of your entire body. It plays a role in facilitating the secretion of certain hormones and hormone releasing factors, and supports cell membrane permeability, facilitating the passage of compounds in and out of cells.* It also supports a normal pH level in the body, which is necessary for immune health.*
Magnesium is an essential nutrient required for many biologic functions, including over 300 enzymatic reactions. Magnesium is essential for every major biological process. It is necessary for the metabolism of glucose, production of cellular energy, and the synthesis of nucleic acids and proteins.* Magnesium's role in cellular reproduction is key in maintaining proper levels of immune-related cells.* It is also vital for making sure calcium is used properly by the body.*
Zinc is essential for maintaining normal cell-mediated immune function. It is critical for the formation and activity of many enzymes and cells that play roles in the maintenance of a normal immune system. It is also critical to other enzymes that support proper free radical balance in the body.*
Copper is a component of the protein ceruloplasmin and the enzyme copper-zinc superoxide dismutase, both of which inhibit free radical formation. Copper also is a vital component of the human enzyme copper-zinc superoxide dismutase, another potent antioxidant.*
Other Natural, Powerful Immune-Supporting Nutrients
Echinacea, Apple, Cranberry, Green Tea, Broccoli, Chamomile, Aronia (Chokeberry), Blueberry, Elderberry, Black Currant, Oregano, Orange, Lemon
Echinacea, Chamomile, Oregano - plants that provide impactful immune support*
Fruit and Vegetable Extracts - provide immune supporting antioxidants*
Green Tea - contains bioactive polyphenols that function as helpful antioxidants, impacting the formation of free radicals*
Solutomic®: An advanced form of mineral ions in solution for easy absorption and body use.

Aqueous Stabilization™: Eniva's liquid proprietary nutrient stabilization process.

Scientific References: Data on file, Eniva Corporation, 2019.

*These statements have not been evaluated by the US Food and Drug Administration. Eniva products do not treat, reduce, cure or prevent disease.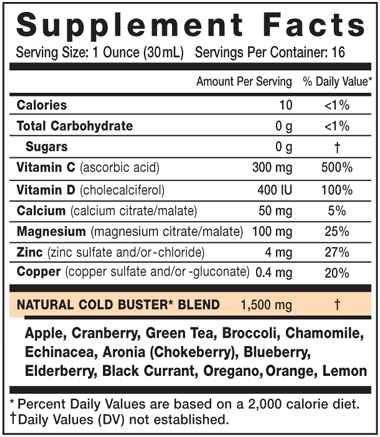 Other Ingredients: Purified water, malic acid, citric acid, natural flavors, xanthan and/or guar gum, stevia leaf extract, sodium benzoate, potassium sorbate.
• Fast Acting Liquid
• Gluten Free
• No MSG
• No Artificial Flavors or Colors
• No Artificial Sweeteners
• Diabetic Friendly
• Vegetarian Friendly
• No Fish Ingredients
• Lactose Free
• No Irradiation
• No Pasteurization
• Cold Processed
Directions: Shake well before using.
Recommendations: May combine with 8 ounces of water or juice. Avoid freezing and heat.
Storage Directions: Avoid freezing and heat. Refrigerate upon receipt and after opening.
Caution: Do not consume if tamper resistant seal is broken or missing. Do not consume if allergic to components in product. As with all dietary supplements, contact your doctor before use. If taking prescriptions, have ongoing medical condition, pregnant, nursing or under age 18, consult doctor before use. KEEP CAP TIGHTLY CLOSED. KEEP OUT OF REACH OF CHILDREN.
Reviews
I have used Cold Buster several times. At the first hint of a cold, I take the cold buster. Each time I have used it it has warded off, or at least shortened the normal duration. My immune system is compromised immune system so I try to be very proactive, This is especially true with the Corona Virus. I have started taking it daily, instead of waiting for any symptoms. Thank You for such a great product.

We go through this like crazy at our house. It seems to help keep our immune systems performing at peak levels. I also notice that my skin appears healthier when I use this product regularly.

I could not be happier with cold buster! It's the first thing I go to when I'm feeling worn down. My 9 and 7 year old like the taste and drinking cold buster gives us the boost our immune systems need to fight. Zero sick days for our family!

I love this product! I was a bit skeptical that it would actually work on a cold..but it did..almost immediately.I love this product.