100% Whey Protein Powder, Low Carb, Grass Fed
High Protein, Low Carb, Natural Ingredients, Gluten Free, Soy Free, Made in USA, Organic Vanilla Bean Flavor
100% Whey Protein Powder, Low Carb, Grass Fed
High Protein, Low Carb, Natural Ingredients, Gluten Free, Soy Free, Made in USA, Organic Vanilla Bean Flavor
---
ENIVA 100% Natural Power Whey Protein
Tone • Muscle • Build & Power*
Top Performance – Pure Protein at an even more Remarkable Price.
Each serving contains 25 grams whey protein, 11.5 grams EAAs, 5.5 grams BCAAs, 4 grams glutamine

100% Whey, Isolate Primary Source, Whey Concentrate, Hydrolyzed Whey Peptides, lactase, Low Carb

Zero Artificial Ingredients. No Sucralose. No Acesulfame-K. No Saccharin. No Xylitol. No Erythritol.

100% Made in the USA with USA ingredients - Grass Fed Farm Traceable Whey

Doctor Formulated

When to take: Whey protein shake consumed before or after exercise for muscle growth and recovery for both men and women. A protein shake is also excellent first thing in the morning for metabolism.
You've Found It!
The top quality protein for game-changing performance at an awesome price is here! Pump-up results in muscle strength, mass and tone.* Plus, supercharge metabolism and recovery with fast nutrient delivery.*
Great Tasting

Not chalky, grainy or clumpy, and no strange aftertaste. We guarantee it's the smoothest, best tasting protein on the market. Just mix away. Enjoy the Organic Vanilla Bean flavor.
Safe & Pure

Free from things you don't want in a protein supplement. Guaranteed soy free, hormone free, antibiotic free, no gluten and non-GMO.
Like Nature Intended
Clean and all natural. No artificial flavors or colors. No artificial sweeteners. Plus, it's not "altered" with a single amino acid to artificially increase the protein content.
Lean & Strong
5.5 g BCAAs per serving to promote lean muscle mass and energy production. Helps with athletic post-training recovery, muscle stress and fatigue.*
• 25 g Protein Per Serving
• 4 g Glutamine
• 5.5 g BCAAs
• 11.5 g EAAs
100% Whey Protein
Just pure 100% whey protein. 25 grams per serving. No added fillers, binders, or bulking ingredients. Its high purity means it goes to work right away.
Why Natural Whey Protein?
• Rapid Release Protein Nourishment – The Whey Connection
How does 100% Natural Whey Protein = higher quality? Natural Whey protein (with primary source Isolate) demonstrates superior quality and is the top choice of athletes, trainers and health practitioners because it's among the fastest absorbing protein sources — delivered and utilized rapidly by muscle cells.
Whey protein pushes ahead in the quality line-up due to its extensive amino acid profile, better bio-availability and faster rate of absorption as compared to other types of protein. Eniva 100% Natural Power Whey Protein gives you the game-changing edge where other proteins simply come up short. Plus, the outstanding natural components in the Eniva formula deliver an active blend of both whey Isolate and protein Hydrolysates that support rapid breakdown (hydrolyzes) in the body attributed to smaller particle sizes — aids in enhanced absorption.*
In the whole picture, it gives you support for rapid PRE-workout nourishment and continued POST-workout recovery.*
• 25 g Whey Protein
• Extensive Naturally Occurring Amino Acid Profile
• High Micropure Protein Ratio – Isolate & Hydrolysates
• Whey Isolates are the Primary Protein Source
• Instantized for easy mixing and enhanced absorption*
Clean, Natural & Powerful
Eniva 100% Natural Power Whey Protein is a premium, soy free, whey isolate primary-sourced and instantized formula free from artificial ingredients.
The all natural formula provides critical nutrients for body health, metabolism and muscular strength. With no artificial flavors, colors or sweeteners and a strong amino acid profile with BCAAs and glutamine, it represents a premium offering of whey protein for maximum results. – Give your body the best, and expect more!
The Natural Factor
We are what we put into our bodies. Who really wants artificials and extra fillers clogging up our bodies? Not only does an inferior protein formula make our bodies work harder to knock out the "spoilage," it takes away from performance output as well. When we work so hard with exercise/lift/nutrition programs to achieve premier muscle tone, fat index, strength and body balance, we need to be laser focused with the protein ingredients we ingest.
That's why Eniva 100% Natural Power Whey Protein is formulated with the best of "top shelf" natural, micropure nutrients that are naturally flavored with Organic Vanilla and are free of artificial sweeteners, fillers and hormones. This translates to low fat, low cholesterol, low sugar – and top performance. You'll just love the smooth, natural taste!
• No Soy Ingredients
• Organic Vanilla Bean
• No Artificial Sweeteners
• No Artificial Colors or Flavors
• No Gluten • No Corn
• Vegetarian Friendly
• NON GMO
• Low Glycemic
Pure Ingredients
We guarantee that Eniva Natural Whey Protein contains 100% premium whey protein ingredients – no binders, fillers or soy components. The amino acids are naturally occurring. It does not contain any unnatural or added amino acid ingredients. You can be rest assured there are no growth hormones (rBGH Free), No antibiotics, it's non-GMO, and it's free of harmful contaminants. Plus, we are 100% traceability sourced which means we track ingredients to the exact farms that supply our top quality ingredients — a huge factor in making sure the ingredients are quality assured clean and pure!
"My training depends on using the best fuel out there – Eniva 100% Natural Power Whey Protein! And, you just can't beat this price!"
The Natural Power Advantage
• Premium Products at Value Pricing
• 20 Years of USA Manufacturing
• Medical Doctor Formulated
• Extensively Tested for Safety and Purity
• Maximum Performance with Natural Ingredients
WE MAKE OUR OWN



• It's important to know who and where your products come from!
• Made in Minnesota.
• Eniva products are USA produced.
• We manufacture onsite at our own certified manufacturing facility in Minnesota.
• For nearly 25 years, we've been delivering premium quality supplements to millions of people.
OUR PROMISE TO YOU
SAFETY - QUALITY - EFFECTIVENESS
• We care about your experience.
• If a customer is not pleased with any product purchase, we will offer a refund or exchange.
• All products are refundable/exchangeable within 30 days of purchase.
• We are committed to providing outstanding customer care for you.
*This statement has not been evaluated by the Food and Drug Administration. This product is not intended to diagnose, treat, cure, or prevent any disease.
25 grams whey protein/serving, 11.5 grams EAAs, 5 grams BCAAs, 4 grams glutamine. 38 servings/tub.

100% Whey Protein, Low Carb, Grass Fed, Soy Free, Gluten Free, Non GMO, Organic Vanilla Flavor.

Tone, Strength, Build & Power.* Support your body's metabolism*

Whey Protein Blend: Isolate Primary Source, Whey Concentrate, Hydrolyzed Whey Peptides

Zero Artificial Ingredients. No Sucralose. No Acesulfame-K. No Saccharin. No Xylitol. No Erythritol. No Artificial Flavors.

Made in the USA with USA ingredients (Farm Traceable).

Doctor Formulated. Made in our own USA GMP Certified facility.

Packaging/Container sizes may vary
100% Whey Protein Powder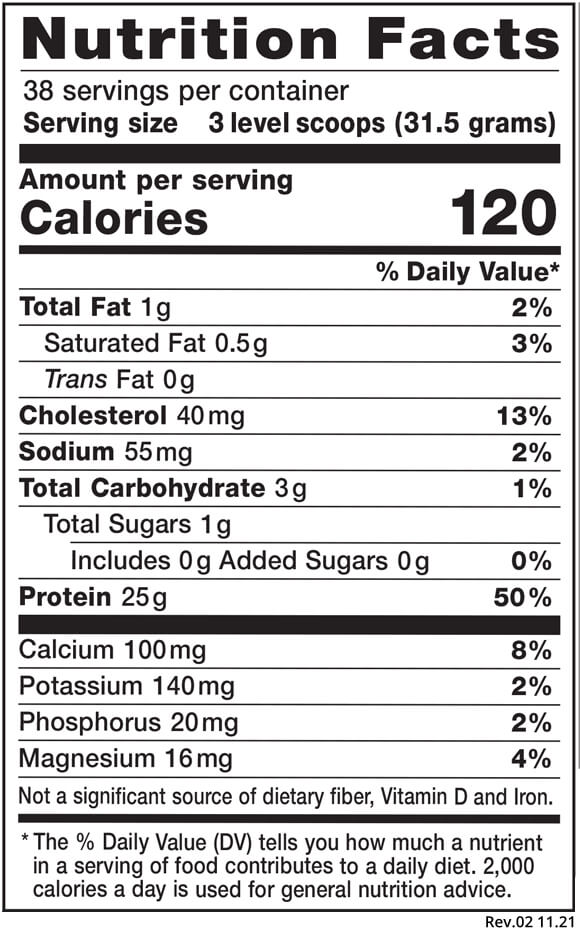 Ingredients: Whey protein power blend (whey protein isolate, whey protein concentrate, whey protein hydrolysates), natural vanilla flavor (from vanilla bean with organic components), sunflower lecithin, organic stevia leaf extract, monk fruit (lou han guo), lactase.
• No Artificial Ingredients
• Soy Free
• Gluten Free
• Non GMO
• No Added Sugar
• No Antibiotics
• rBGH Free
• Keto Friendly
• No Artificial Colors, Flavors or Sweeteners
Directions: Mix 3 scoops with 4-8 ounces of liquid.
Storage Directions:
Store in a cool, dry place. Settling may occur. Avoid excessive heat.
Keep cap tightly closed. Keep out of reach of young children.

This product is sold by weight, not volume.
Caution: Do not consume if tamper resistant seal is broken or missing. Do not consume if allergic to ingredients. Advised to contact your doctor before use. If taking prescriptions, ongoing medical conditions, pregnancy, nursing or under age 14, consult doctor before use. This product is a food supplement only. Not intended for weight reduction.