Eniva® Nighttime Release Formula® — Lean PM is a non-stimulant, liquid, synergistic blend of nutrients and botanicals designed to help promote healthy weight management in conjunction with a healthy diet and exercise.* It contains nutrients focused on accessing stored fat, promoting energy and fat metabolism and stimulating lean muscle mass development.
Benefits of Nighttime Release — Lean PM
• Healthy weight*
• Metabolic function*
• Lean muscle mass development*
• Body cleansing*
• Non-stimulant
• Synergistic blend of botanicals and nutrients
• Safe, convenient, and effective
• Promotes energy and fat metabolism, accessing stored fat
Healthy Weight Management*
Eniva's Nighttime Release Formula — Lean PM is a new generation of natural weight supplementation designed to be safe, convenient and effective. It contains a blend of nutritive and botanical components which are designed to support your weight goals.* Eniva's Nighttime Release Formula helps your body achieve a healthy weight as well as encourages body cleansing.*
Eniva's Nighttime Release Formula utilizes Eniva's proprietary advanced aqueous nutrient delivery system to promote enhanced bio-availability and absorption.
Plus, the product contains no stimulants, no artificial colors, no artificial flavors, and is guaranteed for purity.
Aqueous Stabilization™: Eniva's liquid proprietary nutrient stabilization process.
Scientific References: Data on file, Eniva Corporation, 2019.
* This statement has not been evaluated by the Food and Drug Administration. This product is not intended to diagnose, treat, cure, or prevent any disease.
Note: Each person may experience different outcomes depending on their individual health status. Individual results may vary. Proper weight management should be accomplished in conjunction with a good diet and exercise. Eniva supplements are meant to assist the body's efforts in weight management and do not guarantee weight loss. Consult your healthcare provider before starting any nutritional supplement program/product.
---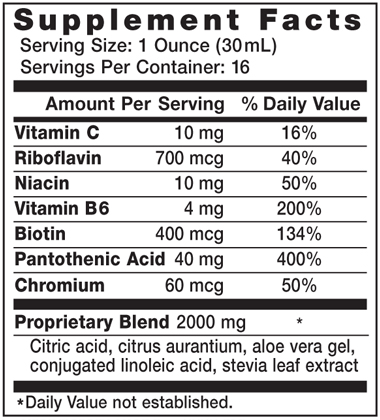 Ingredients: Purified water, citric acid, calcium pantothenate, ascorbic acid, natural mint flavor, sorbimacrogol, [sorbic acid, benzoic acid (protect freshness)], vegetable glycerin, citrus aurantium, safflower oil, niacin, aloe vera gel, conjugated linoleic acid, stevia leaf extract, pyridoxine hydrochloride, riboflavin phosphate, biotin, chromium (from chromium chloride).
• No Stimulants
• No Artificial Colors
• No Artificial Flavors
• Gluten Free
• Diabetic Friendly
• Vegan Friendly
• Cold Processed
• No Fish Ingredients
• No Irradiation
• No Pasteurization

Directions: Adults: 1 ounce daily (30 mL). Take 1 hour after eating and at least 2 hours before sleeping. Shake well before using.
Recommendations: May combine with 8 ounces of water/juice.
Storage Directions: Avoid freezing and heat. It is normal and expected with natural extracts and ingredients some settling may occur.
Caution: Do not consume if tamper resistant seal is broken/missing. Do not consume if allergic to components found within product. As with all dietary supplements, contact your doctor before use. If taking prescription medications, have an ongoing medical condition, are pregnant, nursing or under age 18, consult doctor before use. Isolated vitamins or nutrients are best taken as part of a well balanced diet and broad supplement program. KEEP CAP TIGHTLY CLOSED. KEEP OUT OF REACH OF CHILDREN
Reviews
I have been using this product for about 2 months now, as one bottle is a 16 day supply I believe (so buy two to get you through a month if you are a repeat buyer), and I am down about 12 lbs. I am eating healthier and working out as well, I highly recommend, as I am starting to get my abs back and increased stamina!

Paired up with healthy eating and working out I am definitely seeing results!

I have lost 7 pounds since I started taking this product, and I am very satisfied with it. I pretty much recommend this product to anyone. No side effects or stimulants. Just drink it, and you will have a wonderful fat burning while you're sleeping.