FREE SHIPPING PLUS DISCOUNTS
NEW Customer FIRST order ships FREE.
REPEAT Delivery orders ship FREE.
Learn more: Repeat Delivery
Product Description
Natural Sleep
Eniva Natural Sleep™ Liquid Formula is a natural sleep aid that provides a safe, natural and effective liquid formula for healthy sleep.* This fast-acting liquid sleep supplement contains specialized natural nutrients to support the entire sleep cycle. Sleep Support is 100% natural, non-addictive and non-habit forming sleep supplement.*
Benefits of Eniva Natural Sleep:
• Contains scientifically validated natural nutrients to support the ENTIRE sleep cycle* including: Valerian Extract, L-Theanine, Melatonin, Chamomile, Vit D, Passion Flower and much more
• Goes to work FAST and stays at work ALL-NIGHT long*
• Is 100% NATURAL, NON-ADDICTIVE, and NON-HABIT forming
• Has a GREAT TASTE
Did you know?
1 out of 3 Americans have diagnosed sleep disorders and 1 out of 2 Americans have disturbed sleep. While natural sleep aids are exploding, most are ineffective. Eniva Natural Sleep represents the very finest in nutraceutical innovation for providing natural sleep support ingredients in liquid form. Liquid formulations are regarded as providing higher rates of absorption and effectiveness.
Natural Sleep Proprietary Blend:
• Melatonin
• L-Theanine
• Valerian Extract
• Chamomile Flower Extract
• Passion Flower Extract
• Lemon Balm Extract
• Aloe Vera Gel
• Ashwagandha
Aqueous Stabilization™: Eniva's liquid proprietary nutrient stabilization process.
Scientific References: Data on file, Eniva Corporation, 2019.
* This statement has not been evaluated by the Food and Drug Administration. This product is not intended to diagnose, treat, cure, or prevent any disease.
---
Nutrition Facts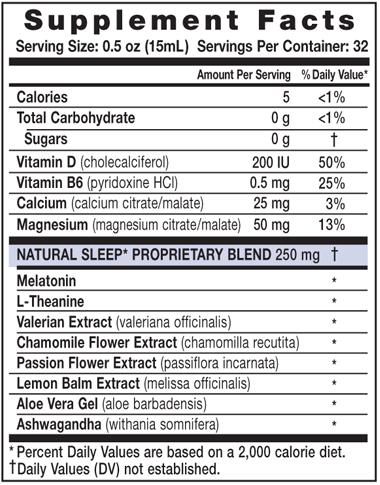 Other Ingredients: Purified water, citric acid, malic acid, natural flavors, sorbic and/or benzoic acid(s) [protects freshness], xanthan and/or guar gum, stevia leaf extract.
• No Artificial Colors or Flavors
• Gluten Free
• Diabetic Friendly
• Vegetarian Friendly
• No Fish Ingredients
• Lactose Free
• No Irradiation
• No Pasteurization
• Cold Processed

Directions: Adults: Take 30 minutes before bed. Dosing: Take 1-2 servings per night as needed. Shake well before using.

Recommendations: May combine with 8 ounces of water / juice.

Storage Directions: Avoid freezing and heat. Refrigerate upon receipt and after opening.

Caution: Do not consume if tamper resistant seal is broken/missing. Do not consume if allergic to any components found within product. As with all dietary supplements, contact your doctor before use. If taking prescription medications, have an ongoing medical condition, are pregnant, nursing or under age 18, consult doctor before use. Isolated minerals or nutrients are best taken as part of a well balanced diet and broad supplement program. KEEP CAP TIGHTLY CLOSED. KEEP OUT OF REACH OF CHILDREN.
Product Reviews
Write Review
This works for me

Posted by Teresa Dopyera on Jan 2nd 2019

I first purchased it from my Naturopath, whom I trust. This product works quite well for me. This product has helped more than anything that I've tried, is non-addictive and gentle.

Great Night's Sleep

Posted by Maria on May 1st 2017

Wonderful product. Really relaxes me at bedtime. Luv the fact that it is all natural.

Sleeping thru the night

Posted by Jason on May 1st 2017

I used to have night terrors that would keep me awake. This is the first product I've found that keeps me asleep through the night now. And I don't feel groggy in the morning when I wake up. Love that it's natural -- tastes good too.

Finally!

Posted by Jerri-Ann Kirk on Apr 19th 2016

Finally, a good, solid nights sleep! This product is amazing. I have had 3 other people try it and they are all wanting to puchase a bottle. My sister is even going to renew her eniva membership and start ordering it herself. Since sleeping better, I am also noticing that my eating habits are getting better...not munching all the time on junk. I have lost 4 pounds since starting this product!! Love it!!