Natural Health Probiotic+ (60 caps)
FREE SHIPPING PLUS DISCOUNTS
NEW Customer FIRST order ships FREE.
REPEAT Delivery orders ship FREE.
Learn more: Repeat Delivery
Product Description

Eniva Health Lactoacillus Probiotic+ Complex™ is a nutraceutical supplement designed to support the health and comfort of the digestive system and overall body function.* It contains BOTH prebiotic and probiotic components. Prebiotics are a special type of soluble fiber generally used by the Probiotics - or good bacteria - as fuel. These good bacteria, in turn, produce substances that help establish intestinal balance and serve as a healthy nutrition source for the colon's own flora.
Learn More – Read Blog Post: Your Gut… The Gateway to Good Health
• Aids in maintaining a healthy balance of intestinal flora.*
• Helpful bacteria aids balanced digestive and intestinal environments for proper nutrient absorption.*
• Assists health during occasional GI distress.*
• Supports bowel regularity.*
• Helps maintain colon health.*
• Encourages healthy beneficial bacteria.*
• Supports immune health.*

Eniva Lactobacillus Probiotic Complex has been manufactured and formulated with care. This advanced formula of the probiotic lactobacillus is delivered in easy-to-swallow, all-natural, vegetable capsules designed for rapid breakdown and use by the body. Vegan-friendly capsules and exceptional seals are all quality features that help protect the beneficial contents inside.
Scientific References: Data on file, Eniva Corporation, 2019.
* This statement has not been evaluated by the Food and Drug Administration. This product is not intended to diagnose, treat, cure, or prevent any disease.
---
Nutrition Facts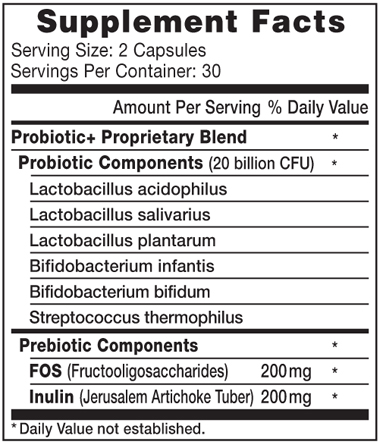 Other Ingredients: Microcrystalline cellulose, vegetable cellulose, water.
• No Artificial Colors or Flavors
• Vegan Friendly
• No Fish Ingredients
• Gluten Free

Directions: Adults: 2 capsules daily before mealtime, preferably in the morning. For occasional GI discomfort, may take 2 capsules hourly up to 4 hours.
Storage Directions: Best if refrigerated upon receipt and after opening. Avoid heat and moisture.
Caution: Do not consume if tamper resistant seal is broken or missing. Do not consume if you are allergic to any component found within product. As with all dietary supplements, contact your doctor before use. If taking prescriptions, have ongoing medical conditions, pregnant, nursing or under age 18, consult doctor before use. KEEP CAP TIGHTLY CLOSED. KEEP OUT OF REACH OF CHILDREN.
Product Reviews
Write Review
Great Product for my colon

Posted by Elizabeth on Apr 14th 2019

I am taking these to detox my colon. I started out taking 2 every evening and now am just taking one.

Simply the Best!

Posted by Sandy on Feb 19th 2016

I have been using this probiotic for years. It is better (and less expensive) than anything in the health food stores. In addition to my regular daily use, I have given it to the people around me who have occasional stomach/intestinal upset because it works so fast.