Eniva® Animal Omega-3 Complete™ is a specialized nutritional supplement providing your pet with a potent formulation of the most scientifically researched Omega-3 essential fatty acids. This Omega-3 profile has been safety tested and provides increased benefits for performance.
Omega-3 Essential Fatty Acid Benefits:
Promotes healthy coat, skin and joints
Supports healthy heart and blood vessels
Supports mental focus and scenting
Promotes healthy temperament
Guaranteed purity
100% Natural Fish Oil Sources | High-potency DHA and EPA | Professional Formula
Guaranteed Testing:
No pesticides
No herbicides
No heavy metals – No mercury
No Stimulants, No Artificial Colors, No Artificial Flavors
EFAs – "the good fats" for vibrant health and performance!
Animal Omega-3 Complete (60 caps)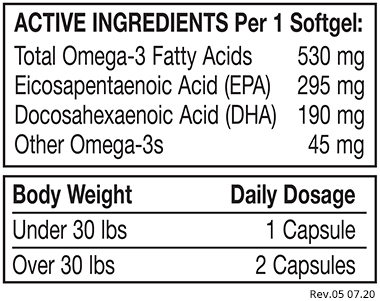 Other Ingredients: gelatin, tocopherols (antioxidants), glycerol (humectant), water.
• 100% Natural fish oil sources
• High potency EPA & DHA
• Guaranteed Testing
• No pesticides
• No herbicides
• No heavy metals
• No mercury
• No stimulants
• No artificial colors
• No artificial flavors
Directions: For daily use, refer to dosage chart above. Note: Dosage can be increased with the advice of your veterinarian. For easy application, dose may be added to food or water.
Storage: Store in a cool, dry place.
Caution: Do not consume if tamper resistant seal is broken or missing. Keep cap tightly closed. Keep out of reach of children and animals to avoid unintended consumption.