Animal Omega-3 Complete
Animal Joints • Coat • Eyes*
Animal Omega-3 Complete
Animal Joints • Coat • Eyes*
---
Eniva Animal Omega-3 Complete™
A specialized nutritional supplement providing your pet with a potent formulation of the most scientifically researched Omega-3 essential fatty acids.
This Omega-3 profile has been safety tested and provides increased benefits for performance.
Omega-3 Essential Fatty Acid Benefits:
• Promotes healthy coat, skin and joints
• Supports healthy heart and blood vessels
• Supports mental focus and scenting
• Promotes healthy temperament
• Guaranteed purity
100% Natural Fish Oil Sources | High-potency DHA and EPA | Professional Formula
Guaranteed Testing:
• No pesticides
• No herbicides
• No heavy metals – No mercury
• No Stimulants, No Artificial Colors, No Artificial Flavors
EFAs – "the good fats" for vibrant health and performance!
WE MAKE OUR OWN



• It's important to know who and where your products come from!
• Made in Minnesota.
• Eniva products are USA produced.
• We manufacture onsite at our own certified manufacturing facility in Minnesota.
• For nearly 25 years, we've been delivering premium quality supplements to millions of people.
OUR PROMISE TO YOU
SAFETY - QUALITY - EFFECTIVENESS
• We care about your experience.
• If a customer is not pleased with any product purchase, we will offer a refund or exchange.
• All products are refundable/exchangeable within 30 days of purchase.
• We are committed to providing outstanding customer care for you.
*This statement has not been evaluated by the Food and Drug Administration. This product is not intended to diagnose, treat, cure, or prevent any disease.
Your dog deserves the best: Professional EPA & DHA Omega-3 Formula (60 caps). This is the professional difference we guarantee over 1000mg of actual EPA and DHA in each serving. Compare to other brands, we offer 50% - 100% MORE EPA and DHA, not the crude filler oils. Don't be fooled by misleading labels. Our formula means more real EPA & DHA health benefits for your pets!

Professionally recommended: Professionally endorsed and used by National Trainers and Champions. Used by USA Military Canine Units for top performance and health.

Maximum health + wellness: Eniva Animal Health Omega-3 Complete supports joint, skin, coat, eye, heart, immune, brain and scenting health. It is an excellent source of important omega-3 fatty acids, including premium amounts of vital EPA and DHA.

Outstanding purity: Tested for over 300 different contaminants. Eniva Animal Health Omega-3 Complete is 100% guaranteed safe from heavy metals, pesticides and herbicides. This product is fully-refined for outstanding purity, not a partial or semi-refined product like most on the market. Your pet will thank you for the purity!

Wild caught and environmentally friendly: Sourced from wild-caught, omega-rich Mackerel, Anchovy and Sardines. Freshest catch and cleanest waters. Sourced in a way that fully protects the oceans fragile ecosystem. Friends of the Sea certified sourcing.
Animal Omega-3 Complete (60 caps)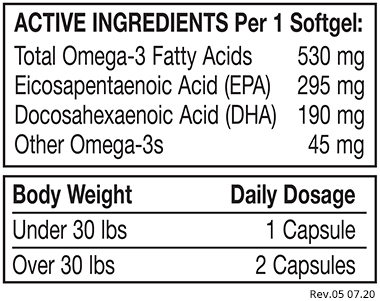 Other Ingredients: gelatin, tocopherols (antioxidants), glycerol (humectant), water.
• 100% Natural fish oil sources
• High potency EPA & DHA
• Guaranteed Testing
• No pesticides
• No herbicides
• No heavy metals
• No mercury
• No stimulants
• No artificial colors
• No artificial flavors
Directions: For daily use, refer to dosage chart above. Note: Dosage can be increased with the advice of your veterinarian. For easy application, dose may be added to food or water.
Storage: Store in a cool, dry place.
Caution: Do not consume if tamper resistant seal is broken or missing. Keep cap tightly closed. Keep out of reach of children and animals to avoid unintended consumption.