Save $5 when you choose the Bottle + Box option
Eniva VIBE®

Daily Multi – Your Solution for Daily Immune Support



Expect Results. Let's Get on with Really Living!
With Elderberry, Zinc, Vitamin C, Vitamin D and other Antioxidants, Minerals, Vitamins & Whole Food Nutrients
• IMMUNE STRENGTH • WHOLE FOOD MATRIX • BALANCED NUTRIENTS*

Eniva VIBE® is a scientifically studied, nature-based liquid immune multivitamin delivering potent antioxidants and essential daily nourishment in a fast acting, bio-ready liquid design. Its full spectrum formula incorporates a concentrated combination of daily vitamins carefully selected antioxidants, minerals, vitamins and amino acids along with fruit, vegetable and specialized phytonutrient ingredients for healthy living, antioxidant strength and DNA support.* It's the liquid supplements your body needs for lasting vibrant health.*
TOP REASONS PEOPLE TAKE VIBE DAILY
• LIQUID ADVANTAGE
Faster Absorption than Pills or Gummies
• ALL-IN-ONE MULTI – IMMUNE STRENGTH*
Vitamins, Minerals, Berries, Veggies, Aminos
• VITALITY! Balance • Energy • Stress Support*
• DOCTOR FORMULATED – RESEARCH STUDIED
• CLEAN & PURE - ZERO GLUTEN, SOY OR DAIRY

BENEFITS OF VIBE
"My Daily Foundation"

• IMMUNE SUPPORT*
• CELLULAR DEFENSE – FREE RADICAL CELL DAMAGE*
• HEART HEALTH*
• FUEL ENERGY & STAMINA WITH AMINO ACIDS*
• PROTECT DNA - YOUTH CODE*

MORE REASONS TO LOVE VIBE

• VALUE
How much is your health worth? The cost for a one month supply of VIBE is less than $2 per day... less than a gourmet cup of coffee!
• FULL BODY BALANCE
The nutrients in VIBE are formulated based on the nutrient ratios found naturally within the human body.
• FILL NUTRITION GAPS – ARE YOU GETTING 5 A DAY?
The U.S. Dietary Guidelines for Americans recommend daily consumption of 2½ cups of vegetables and 2 cups of fruit. But, research has shown that 90% of Americans do not meet the goal of 5 servings a day. (Another way to look at it: 1/2 your plate with fruits and veggies for each meal.) Eniva VIBE is the powerhouse of nutrients that can help you with rounding out your fruit and veggie needs – since VIBE is loaded with WHOLE FOOD INGREDIENTS. (See below for more details about recent studies.**)
• EASY! - DAILY ROUTINE
Just add water… Giving your body what it needs to be healthy and feel relaxed shouldn't be complicated. The stress-fighting nutrients of VIBE are the simple solution to a healthier, more happy and balanced you.*

MISSION: WELLNESS

Peace of mind comes from knowing you can trust Eniva Health to deliver doctor recommended top quality liquid nutrition. This translates to more benefits and results from scientifically balanced nutrients for ongoing health needs.
PASSION: CLEAN & PURE

From sourcing top quality whole food nutrients, Cold Blending ingredients to protect the nutrient content, researching and utilizing the best GMP standards, to Certified Safety inspections — we care deeply about what we deliver to your body and the wellness outcomes you can achieve.
4 DYNAMIC NUTRIENT BLENDS
All IN ONE OUNCE
VIBE Combines FOUR Specialized Nutritional Blends
1) SoluMAX® — Immune Health*
12 Vitamins & 13 Minerals
2) AntiOX2® — Healthy Aging*
26 Natural Berry and Plant Extracts
3) HeartPRO® — Cardiovascular Health*
5 Specialized Heart Nutrients
4) CollaMAX® — Cellular Health*
10 Phytonutrients & Amino Acids
WHOLE BODY NUTRITION

Your body depends on you to provide it with daily nourishment. Because of challenges with the modern diet, scientists and clinicians now recommend that individuals consume a high quality, daily multi-nutrient supplement to help meet nutritional recommendations. Stated on each VIBE bottle are validated nutrient amounts that provide a balanced amount of recognized essential nutrients to work with your diet to help keep you healthy.
GET YOUR VIBE ON...

Be Healthy, Be Happy, Be Your Vibrant Self
STILL THE ONE FOR 15 YEARS
Feel the VIBE difference! VIBE is the GREAT TASTING, power-packed, all-in-one powerhouse that for 15 years continues to make life-changing impact for millions of our Eniva Family customers.

VIBE FOR ME & YOUth
"I've been taking VIBE for 14 years, and I'll continue to take it every morning! When I first tried this amazing product, I knew it was different. Right away, I felt it going to work. I noticed how I felt focused and re-energized. It also helped my back that had ached for years - finally real comfort and support – that strengthened over the years.
Today, I still notice how VIBE gives me my daily boost and helps me power forward for an upbeat day!"
– Anna B.

VIBE - Cellular Defense Formula
VIBE provides a nutritional foundation of liquid multivitamins specifically formulated with your heart in mind! The natural flavor of the daily vitamins is a pleasing treat that gets you moving! The heart focused liquid supplements formula is validated with RDA nutrients, concentrated fruit, vegetable and aloe vera extracts, as well as a specialized and decaffeinated green tea EGCG catechin complex. This formula incorporates the many benefits of the VIBE Original formula, with a few special additions:
• Increased Magnesium
• Enhanced AntiOX Fruit and Vegetable Blend
• Increased Niacin (Vitamin B3)
• Increased Natural Vitamin D
• Enhanced Synergistic Green Tea Combination
ADVANCED NUTRIENT MATRIX
FOR CELLULAR NOURISHMENT & DEFENSE

• YOU CAN! Do something good for yourself. Enjoy the easy and balanced way to get nature-based nutrients that your body is craving.*
• STRENGTHEN: Immune System / Bones & Muscles
• SUPPORT: Cardio / Nerves / Mood*
• FIGHT: Free Radicals / Cellular Damage*

POWERED BY WHOLE FOODS

Step-up Your Vitality with Pure Ingredients
VIBE IS FULL SPECTRUM NUTRITION
Superfoods + Phytonutrients
Green Tea + Amino Acids

Experience Renewal with Eniva Health*
With 20+ years of creating wellness solutions, Eniva Health's commitment continues to earn the trust of medical experts, practitioners and loved ones of our customer's families. Eniva's dedicated team of wellness experts guide the entire process from design to delivery based on our pledge to produce nature-based, innovative wellness products that allow people to experience positive outcomes.

The Eniva Health nutraceuticals deliver on the promise of healthy solutions for daily living. View more Eniva VIBE Liquid Daily Multis. > Click here.
What VIBE Doesn't Have
Out of respect for current research and the safety of VIBE® users, there are certain ingredients Eniva® has chosen not to include in the VIBE® formulations:
• No Vitamin K: For those on blood-thinners
• No Iron: For men and women with cardiovascular issues
• No Excessive Vitamin A: For aging women with compromised bones
• No artificial flavors, colorants, dyes or sweeteners
• No Mangosteen Fruit: For concern of chronic exposure to alpha-mangostin, a xanthone that could be toxic to mitochondrial function, leading to impairment of cellular respiration and production of lactic acidosis.
(Reference: Wong LP, Klemmer PJ. Severe lactic acidosis associated with juice of the mangosteen fruit, Garcinia mangostana Am J Kidney Dis 51:829-3, 2008).
WHAT TO EXPECT

• Delicious berry taste
• Daily foundation support for healthy living*
• Supports immune system function*
• Maintains body nutrient balance*
• 4 Blends – synergy of powerful ingredients for positive outcomes*
• Liquid fast – goes to work quickly
• Doctor formulated
• Research supported
• Nature-based / whole food ingredients
• Clean and pure ingredients
• No artificial colors or flavors
• Non-GMO
• Vegetarian, Soy-free, Dairy-Free, Gluten Free
• Keto clean
• Manufactured in the USA
• Produced leveraging more than 20 years of nutraceutical manufacturing
DOCTOR FORMULATED • GMP CERTIFIED • MANUFACTURED IN THE USA
Eniva Liquid VIBE Daily Immune Health Multi Vitamin is a doctor formulated, specialized product manufactured in Minneapolis, Minnesota, USA.
WE MAKE OUR OWN



• It's important to know who and where your products come from!
• Made in Minnesota.
• Eniva products are USA produced.
• We manufacture onsite at our own certified manufacturing facility in Minnesota.
• For over 20 years, we've been delivering premium quality supplements to millions of people.
OUR PROMISE TO YOU
SAFETY - QUALITY - EFFECTIVENESS
• We care about your experience.
• If a customer is not pleased with any product purchase, we will offer a refund or exchange.
• All products are refundable/exchangeable within 30 days of purchase.
• We are committed to providing outstanding customer care for you.
At Eniva Health We Are Committed To:
Safety: Life-enhancing products that can be trusted.

Quality: Only premium quality and pure ingredients combined with quality assurance in manufacturing.

Effectiveness: Innovative formulas based in science that produce real results.

Core to our values is the passion we have to help people experience a lifetime of vibrant and abundant health.
---
*This statement has not been evaluated by the Food and Drug Administration. This product is not intended to diagnose, treat, cure, or prevent any disease.
** Eating five servings a day of fruits and vegetables may help you achieve a healthier, longer life, according to new research published in the journal Circulation. (1 Mar 2021)
https://www.ahajournals.org/doi/10.1161/CIRCULATIONAHA.120.048996
The U.S. Dietary Guidelines for Americans recommend daily consumption of 2½ cups of vegetables and 2 cups of fruit. Additional research has shown that 90% of Americans do not meet this goal. Rather than measuring everything you eat, the guidelines suggest that you fill half of your plate with fruits and vegetables when eating a meal.
https://www.dietaryguidelines.gov/sites/default/files/2020-12/Dietary_Guidelines_for_Americans_2020-2025.pdf
Customer experiences noted above do not imply that similar results will happen with your use of our products, or that the experience indicated is due directly to the use of our products.
FULL SPECTRUM MULTIVITAMIN—Enjoy a healthy dose of premium nutrition that offers 32 vitamins, minerals and phytonutrients, PLUS more than 30 fruits and veggies superfoods, including Elderberry, Acai berry, Pomegranate, Green tea, Aloe vera, CoQ10, Amino acids, and much more.
This liquid multivitamin and mineral supplement delivers daily nourishment in a liquid fast, bio-ready design—no messy powders or hard-to-swallow pills.
HEART HEALTH SUPPORT— contains D-Ribose, L-Carnitine, Malic Acid, CoQ10, and mixed Tocopherols to support proper function of the cardiovascular system, including cholesterol health, homocysteine levels, blood pressure and energy production.*
IMMUNE HEALTH—potent essential vitamins and minerals for daily immunity support. Vitamin C, Zinc, Elderberry, Vitamin D, and more. A pleasing nature-based low sugar fruit flavor.*

CELLULAR DEFENSE—advanced nutrient matrix contains essential nutrients designed to support heart function, bone and skin health, energy and wellbeing.* Decaffeinated EGCG green tea complex provides this heart healthy formula with high-potency antioxidants. Peer reviewed clinical study shows that the nutrients in VIBE support healthy DNA.*

DOCTOR FORMULATED—The Eniva Health brand is known for Safety, Quality, and Effectiveness. VIBE Fruit Sensation is not irradiated or pasteurized, contains only natural flavors and colors, and is gluten-free, lactose-free, mangosteen fruit-free, diabetic friendly.

Eniva Health products are manufactured in the USA at Eniva Health's FDA-inspected and GMP Certified manufacturing facility.
VIBE Daily Immune Health Multi Vitamin (32 oz)

VIBE Daily Immune Health Multi Vitamin Packet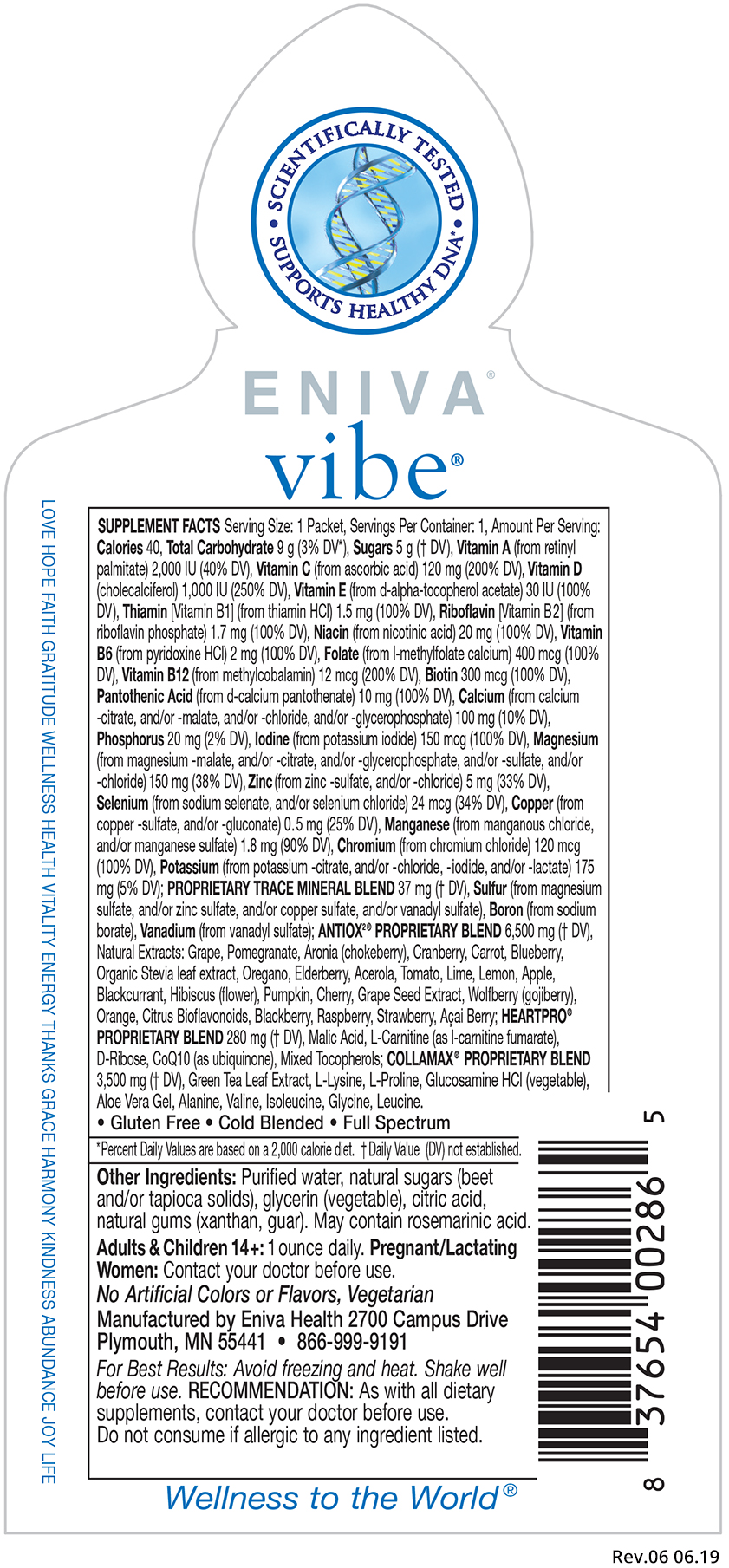 Ingredients: Purified water, natural extracts and flavors [May contain: grape, pomegranate, green tea leaf extract, aronia (chokeberry), cranberry, carrot, blueberry, organic stevia leaf extract, oregano, elderberry, acerola, tomato, lime, lemon, apple, blackcurrant, hibiscus (flower), pumpkin, cherry, aloe vera gel, grape seed extract, wolfberry (gojiberry), orange, citrus bioflavonoids, blackberry, raspberry, strawberry, açai berry], natural sugars (beet and/or tapioca solids), glycerin (vegetable), magnesium (from magnesium citrate, -malate, -sulfate, -glycerophosphate, and/or -chloride), citric acid, malic acid, potassium (from potassium citrate, -chloride, -iodide, and/or -lactate), ascorbic acid, calcium (from calcium citrate, -malate, -chloride, and/or -glycerophosphate), l-lysine, d-alpha tocopherol acetate (with mixed tocopherols), natural gums (xanthan, guar), l-proline, niacin (from nicotinic acid), zinc (from zinc sulfate, and/or -chloride), d-calcium pantothenate, l-carnitine fumarate, retinyl palmitate, sodium borate, glucosamine hydrochloride (vegetable), manganese (from manganous chloride, and/or -sulfate), cholecalciferol, pyridoxine hydrochloride, riboflavin phosphate, thiamine hydrochloride, copper (from copper sulfate, and/or -gluconate), d-ribose, l-methylfolate calcium, chromium chloride, biotin, selenium (from sodium selenate, and/or -chloride), methylcobalamin, vanadyl sulfate, coenzyme q10 (ubiquinone). May contain rosemarinic acid.
• Gluten Free
• Vegetarian
• No Artificial Colors
• No Artificial Flavors
• Cold Blended
• Full Spectrum
• No Irradiation
• No Pasteurization
Directions: For best results:
– Shake well before use.
– Mix with 8 ounces of liquid.
– Split dose evenly between am/pm hours.
Adults: 1 ounce daily.
Children 14+: 1 ounce daily
Pregnant/Lactating Women: Contact your doctor before use.
• It is normal with extracts and ingredients that some settling may occur.
• Best if refrigerated upon receipt and after opening. Avoid freezing and heat.
Recommendations: As with all dietary supplements, contact your doctor before use. If taking prescriptions, have an ongoing medical condition, pregnant, nursing or under age 14, consult your doctor before use.
Potential Risks: Do not consume if allergic to components in product. Although ENIVA® VIBE® is manufactured with safe ingredients, rarely, GI discomfort (nausea, stomachache, loosening of stool), mild skin rash, and/or headache, may arise. Should these occur, discontinue use. Some individuals may experience a mild skin redness/hot prickly feeling because of niacin in ENIVA® VIBE® ("niacin flush"). This is a normal reaction due to the expansion of capillaries in skin and should subside within 30 minutes.
Caution: Do not consume if tamper resistant seal is broken or missing. This product is not intended for children under 14 years of age.
KEEP CAP TIGHTLY CLOSED. KEEP OUT OF REACH OF CHILDREN.