Thyroid Care Formula
Specialized nutrition for thyroid health • Hormonal balance, metabolism, regularity & energy* • Gluten free, dairy free & vegetarian.
Thyroid Care Formula
Specialized nutrition for thyroid health • Hormonal balance, metabolism, regularity & energy* • Gluten free, dairy free & vegetarian.
---
Thyroid Care Formula
A liquid dietary supplement for thyroid support, providing a specialized mineral blend designed to promote the proper health of the human body, especially the thyroid gland.* It contains the Cell-Ready® minerals Iodine, Zinc, Selenium, Copper and Manganese in a proprietary nutrient delivery system developed for our natural thyroid supplements. Support healthy thyroid function with our liquid vitamins and minerals.
Thyroid Health & More...
Thyroid: Tiny Gland, Yet Critical for Health. Many people might not know just how important the thyroid gland actually is... Did you know that this tiny gland produces hormones that influence almost every organ, tissue and cell in your body? This vital gland, located on either side of the middle of your neck, is very important for producing hormones that influence nearly every organ, every tissue and every cell in your body.
Thyroid Hormones Regulate the Body's Metabolism and Organ Function, Affecting:
• Heart rate*
• Cholesterol levels*
• Body weight*
• Energy levels*
• Muscle strength*
The Thyroid Also Is Involved in regulating the Body's:
• Temperature*
• Skin conditions*
• Menstrual regularity*
• Memory*
• Bowel function*
Your thyroid is critical to your overall health, and without proper function, puts your entire body and health at risk.
Healthy Thyroid Care Facts
Maintaining and supporting a healthy thyroid on a daily basis is extremely important. Take a bio-available thyroid care formula that includes potassium iodide as a dietary supplement each day to get 100% of the US RDA of Iodine. With this step, you are promoting the healthy, normal functioning of the thyroid gland and also conditioning it for efficient uptake of iodine in an emergency situation.
Scientific studies have demonstrated the importance of iodine, selenium, zinc, copper and manganese in promoting the health of the thyroid. Thyroid hormones regulate the body's metabolism, organ function, affect heart rate, cholesterol levels, body weight, energy levels, muscle strength, body temperature, skin conditions, menstrual regularity, memory and even bowel function.* The Eniva Thyroid Care Multi Minerals is designed to promote the normal and healthy functioning of this important gland.*
Eniva Thyroid Care Formula. An Eniva Minerals for Life® Product
WE MAKE OUR OWN



• It's important to know who and where your products come from!
• Made in Minnesota.
• Eniva products are USA produced.
• We manufacture onsite at our own certified manufacturing facility in Minnesota.
• For nearly 25 years, we've been delivering premium quality supplements to millions of people.
OUR PROMISE TO YOU
SAFETY - QUALITY - EFFECTIVENESS
• We care about your experience.
• If a customer is not pleased with any product purchase, we will offer a refund or exchange.
• All products are refundable/exchangeable within 30 days of purchase.
• We are committed to providing outstanding customer care for you.
*This statement has not been evaluated by the Food and Drug Administration. This product is not intended to diagnose, treat, cure, or prevent any disease.
Note: This information is meant to communicate the possibility of radiation contamination and its effect on a healthy thyroid. Proper nutritional supplementation may aid in supporting a healthy thyroid, and an oral prophylaxis approved by the FDA will assist in protecting against and/or minimizing radiation contamination. This information is not to be considered medical advice or replace the advice of a medical professional or an emergency government official. It is not intended to treat, diagnose, or cure any disease. People who are allergic to iodine should not take potassium iodide products.
SUPPORT A HEALTHY THYROID GLAND & HORMONE FUNCTION.* Specialized mineral nutrient combination to support optimal thyroid health and hormonal balance in the body.* Also contains the prebiotic inulin to promote GI gut health.

LIQUID DESIGN FOR ENHANCED ABSORPTION & RESULTS. Easy to swallow liquid that goes to work fast. Ideal for people who have difficulty swallowing pills or are over the age of 30.

EASY TO USE: 48 daily servings per bottle. Servings size is 10 ml (2 teaspoons). May combine with 8 ounces of water/juice. Refrigerate after opening.

SUPPORTS A HEALTHY WEIGHT, ENERGY LEVELS, METABOLISM, REGULARITY, HORMONAL BALANCE, FOCUS & CLARITY.* The thyroid impacts the entire body and many functions. A healthy thyroid means a better life with more vitality and energy.*

GLUTEN FREE, DAIRY FREE, NON-GMO & VEGETARIAN

DOCTOR FORMULATED & MADE IN THE USA. This formula has been carefully created and is manufactured in the USA at our own GMP certified and FDA-registered facility.
Thyroid Care Multi Minerals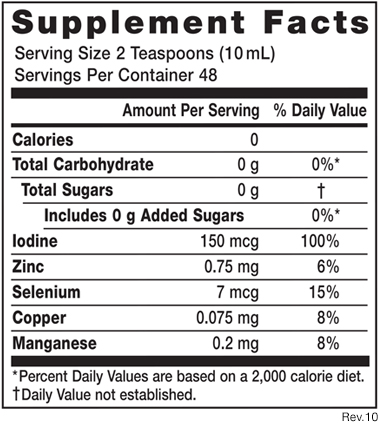 Ingredients: Purified water, natural flavors, inulin (from chicory root), malic acid, organic stevia leaf extract, zinc (from zinc sulfate), manganese (from manganous chloride), copper (from copper sulfate), iodine (from potassium iodide), selenium (from sodium selenate).
• Gluten, Soy & Dairy Free
• Non GMO
• Zero Sugar & Zero Carbs
• Vegan • No Fish Ingredients
• Diabetic Friendly
• No Artificial Colors, Flavors or Sweeteners
• BPA Free Bottle
Directions: Adults: 1 serving daily (10 mL).
Shake well before using. Combine with water or juice.
Storage: Avoid excessive heat.
Caution: Do not take this product if you have been diagnosed with liver failure. If you have a HYPER-Thyroid condition, this product is not recommended without first consulting your health care professional. Do not consume if tamper resistant seal is broken or missing. Do not consume if allergic to ingredients. As with all dietary supplements, contact your doctor before use. If taking prescriptions, have an ongoing medical condition, pregnant, nursing or under age 18, consult doctor before use. KEEP CAP TIGHTLY CLOSED. KEEP OUT OF REACH OF CHILDREN.