Silica for Beautiful Skin, Hair, Nails & Bones




Give your Body a Collagen Boost – The Natural Way!


BEAUTY SECRET • COLLAGEN FORMATION • CONNECTIVE TISSUE

Eniva® Minerals for Life® Silica Liquid Concentrate is a dietary supplement of the Cell-Ready® mineral SILICA in a proprietary nutrient delivery system.*
THE SILICA SECRET:


COLLAGEN BOOSTER


FOR BEAUTIFUL SKIN, HAIR & NAILS
...PLUS, JOINTS & BONES

As our bodies age, our collagen levels fall. Lower collagen levels cause our skin to droop and lose vibrancy, and also impact bones and joints.

Luckily, you can give your collagen levels a boost with Silica, which is a trace mineral that plays an important role in the formation of collagen.*
OPTIMUM ENZYMATIC FUNCTION

Silica is an element required for the proper functioning of the enzyme prolyhydroxylase. This enzyme functions in the formation of:
• SKIN, HAIR & NAILS
• COLLAGEN IN BONE
• CARTILAGE
• CONNECTIVE TISSUE
• BLOOD VESSELS
DID YOU KNOW?

• ORTHOSILICIC: Eniva uses the recommended and superior form of silica: orthosilicic, in liquid form for best results.

• Collagen supports vibrant skin, hair and nails, plus healthy bones and comfortable joints.*

• Silica is the third most abundant trace mineral in the human body!
HOW SILICA WORKS

Minerals play many roles in the metabolic activities that strengthen bone, cartilage, and other connective tissues.* Unfortunately, many of the foods eaten today have lost their nutritional value due to soil nutrient depletion, food processing,
and cooking.
• Silica aids in replenishing missing minerals to help boost the body processes needed for supporting structural health.*
• Silica is an important factor in bone calcification since large concentrations of silica have been found in growing bone.*
• Silica is also found in high concentration in the skin and hair, further implicating it its role in supporting structural health.*
★★★★★


"I feel better. This makes me feel better overall, especially in my joints!"
–

Fern C

.
LIQUID FAST
The proprietary design of Eniva Silica Liquid Concentrate has already performed the initial steps the body undertakes when trying to assimilate minerals — to put them in a completely bio-available form to be quickly and easily utilized by the body.
ENIVA CELL-READY® MINERALS PROMISE
• No fructose or sugars
• No artificial colors or flavorings
• No calories or caffeine
• No animal by-products or animal testing
WHERE & HOW IS IT MADE?

This supplement is made in the USA at Eniva's FDA registered, MNDA certified and cGMP compliant facility in Minneapolis, Minnesota. Eniva Silica Mineral Liquid Concentrate is carefully made to protect the freshness and potency of its nutrients:
Cold Blended
Non-Pasteurized
Non-Irradiated
WE MAKE OUR OWN
• It's important to know who and where your products come from!
• Made by Eniva Health in Minnesota, USA.
• We manufacture ONSITE at our own certified manufacturing facility in Plymouth, Minnesota.
• For over 20 years, we've been delivering premium quality supplements to millions of people.
OUR PROMISE TO YOU
100% SATISFACTION GUARANTEE
• If a customer is not pleased with any product purchase for any reason, we will offer a refund or exchange.
• All products are refundable/exchangeable within 30 days of purchase.
• We are committed to providing outstanding customer care for you.
NOTE: Product Packaging May Vary
---
---
Scientific References: Data on file, Eniva Corporation, 2020.
* This statement has not been evaluated by the Food and Drug Administration. This product is not intended to diagnose, treat, cure, or prevent any disease.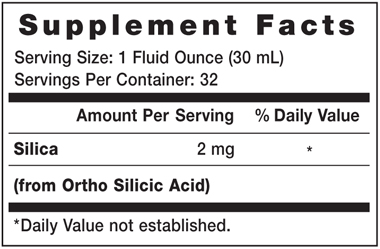 Other Ingredients: Purified water.
• No Artificial Colors or Flavors
• Gluten Free
• Diabetic Friendly
• Vegetarian Friendly
• No Fish Ingredients
• No GMO Ingredients
Directions: Adults: 1 Ounce Daily (30 mL). Shake well before using.
Recommendations: May combine with 8 ounces of water/juice.
Storage Directions: Avoid freezing and heat. Refrigerate after opening.
Caution: Do not consume if tamper resistant seal is broken or missing. Do not consume if you are allergic to any component found within product ingredients. As with all dietary supplements, contact your doctor before use. If you are currently taking prescription medication, have an ongoing medical condition, are pregnant, nursing or under the age of 18, you should consult your doctor before using this product. Isolated minerals or nutrients are best taken as part of a comprehensive supplement program containing a broad spectrum or nutrients. KEEP CAP TIGHTLY CLOSED. KEEP OUT OF REACH OF CHILDREN.