JointZyme Body Comfort Support Formula
Comfort • Joints • Connective Tissue*
JointZyme Body Comfort Support Formula
Comfort • Joints • Connective Tissue*
---
Eniva JointZyme
Comfort • Joints • Connective Tissue*
A joint supplement made from a nutritional enzyme support formula, containing specific nutritional components shown in clinical studies to support the normal and healthy function of joints as well as overall body health.*
JointZyme Ingredients
• Papain is a very diverse and valuable enzyme, originating from unripe papayas, which supports proper digestion and promotes healthy joints.*
• Bromelain is a plant-based enzyme, sourced from the stems of pineapple, which helps break down long chains of proteins and provides relief from occasional, mild discomfort.*
• Protease Enzyme breaks down protein that is found in meats, nuts and cheese, helping the body sustain normal protein synthesis and other metabolic pathways.*
• Peptidase is an enzyme that plays an essential role in protein activation and cell regulation, as well as cleaving peptides and proteins; supports joint comfort.*
• Fungal Pancreatin is a vegan enzyme which helps to nourish the joints and support healthy cartilage, allowing the body to be cushioned and to move easily.*
• Rutin is a soluble plant pigment which helps promote healthy connective tissue; rutin is also a potent free-radical scavenger, which helps support a well-functioning capillary and vascular system.*
• Amylase Enzyme breaks down carbohydrates, starches, and sugars that are prevalent in potatoes, fruits, vegetables, and snack food.*
• Lipase Enzyme breaks down fat that is found in butter, cheese, and meat.*
Nature Based Approach
Enzymes in supplements for joints have been known for years to be effective in aiding the body to properly use the nutrients provided in food and other supplements. This is particularly helpful with regard to proper digestion. Equally as important, but not nearly as well known, is the fact that enzymes play a critical role in supporting the normal functioning of joints.*
Those Who May Benefit from JointZyme
• Athletes looking to support joints during physical workouts*
• People who need extra support for healthy bones and joints*
• Those who need a healthy immune response*
• Those who seek good mobility, who may need to support normal ligament health*
Benefits of JointZyme
• Ingredients that support the normal structure and function of joints*
• Supports flexibility and mobility of tendons, cartilage and ligaments*
• Aids capillary and vascular systems*
• High dose Bromelain and Papain concentrations
• Supports proper immune function and reaction*
• No animal derivatives
• No preservatives or artificial colors
pH Range Breakdown of JointZyme
• Cellulase 3-7
• Hemicelluase 2-6
• Phytase 3-6
• Xylanase 2-9
• Amylase 4-10
• Lipase 3-10
• Protease 4-10
WE MAKE OUR OWN



• It's important to know who and where your products come from!
• Made in Minnesota.
• Eniva products are USA produced.
• We manufacture onsite at our own certified manufacturing facility in Minnesota.
• For nearly 25 years, we've been delivering premium quality supplements to millions of people.
OUR PROMISE TO YOU
SAFETY - QUALITY - EFFECTIVENESS
• We care about your experience.
• If a customer is not pleased with any product purchase, we will offer a refund or exchange.
• All products are refundable/exchangeable within 30 days of purchase.
• We are committed to providing outstanding customer care for you.
*This statement has not been evaluated by the Food and Drug Administration. This product is not intended to diagnose, treat, cure, or prevent any disease.
This nutritional enzyme formula contains specific ingredients to assist the body in addressing discomfort from joint overuse, irritation and an active lifestyle.*

JointZyme Ingredients: Papain, Bromelain, Protease, Peptidase, Pancreatin, Rutin, Amylase, Lipase Enzymes.

Naturally supports healthy structure, function and development of skeletal systems, particularly joints and connective tissue, as well as immune and digestive function.*

Excellent complementing product to Joint ES and Efacor Fish Oil

pH Range Breakdown of JointZyme: Cellulase 3-7 Hemicelluase 2-6 Phytase 3-6 Xylanase 2-9 Amylase 4-10 Lipase 3-10 Protease 4-10.
JointZyme Enzymatic Joint Formula (120 capsules)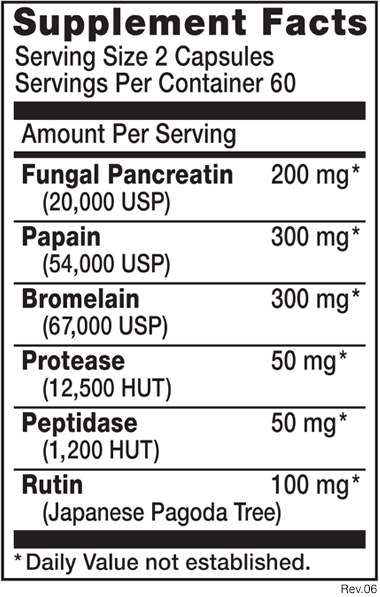 Ingredients: Vegetable capsule, vegetable stearic acid (vegetable fatty acid).
• Gluten Free
• Vegan
• No Stimulants
• No Preservatives
• No Milk or Animal Derivatives
•No Artificial Colors, Flavors or Sweeteners

Directions:
Adults: 2 capsules twice daily on an empty stomach. Always take with 8 ounces of water or liquid.
Shake well before using. Combine with water or juice.
Storage: Avoid excessive heat.
Caution: Do not consume if tamper resistant seal is broken or missing. Do not consume if allergic to ingredients. Do not take if you have existing ulcers. As with all dietary supplements, consult your doctor before use. If taking prescriptions, have ongoing medical condition, pregnant, nursing or under age 14, consult doctor before use. KEEP CAP TIGHTLY CLOSED. KEEP OUT OF REACH OF CHILDREN.