FREE SHIPPING PLUS DISCOUNTS
NEW Customer FIRST order ships FREE.
REPEAT Delivery orders ship FREE.
Learn more: Repeat Delivery
Product Description
Eniva® Full Spectrum Flex® Liquid Joint Support provides powerful ingredients shown to support joint function.* Generous amounts of liquid Glucosamine, Chondroitin, MSM, Vitamin B5, and Vitamin B6 support normal joint structure and fluidity.*
Liquid Joint Support and Comfort:
• Type II Collagen is essential for joint structure.*
• Glucosamine is an important building block needed by the body to manufacture specialized components called glycosaminoglycans.*
• MSM contributes sulfur for protein synthesis and enzyme function to support joints.*
• Chondroitin is a major constituent for normal joint structure.*
The Eniva Flex active ingredients such as glucosamine liquid work in synergy to create a safe and natural combination to help you stay active and healthy.*
Aqueous Stabilization™: Eniva's liquid proprietary nutrient stabilization process.
Scientific References: Data on file, Eniva Corporation, 2018.
* This statement has not been evaluated by the Food and Drug Administration. This product is not intended to diagnose, treat, cure, or prevent any disease.
---
Nutrition Facts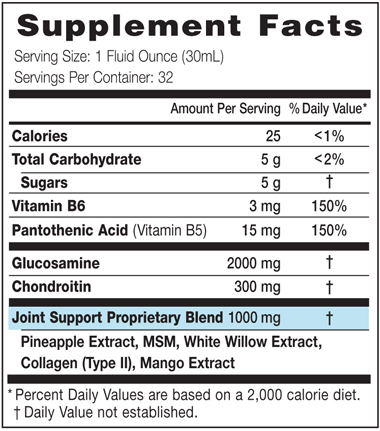 Ingredients: Purified water, natural beet sugar, glucosamine hydrochloride (from shellfish sources), citric acid, natural flavors, methyl-sulfonyl-methane (MSM), chondroitin sulfate (from bovine sources), type II collagen (from poultry sources), sorbic and/or benzoic acids (protect freshness), ascorbic acid, xanthan gum, calcium pantothenate, pyridoxine hydrochloride, white willow extract.
• Gluten Free
• No Artificial Flavors
• No Artificial Colors
• Diabetic Friendly
• Cold Processed
• No Irradiation
• No Pasteurization
Directions: Adults: 1 ounce daily (30mL). Shake well before using.
Recommednations: May combine with 8 ounces of water / juice.

Storage Directions: Avoid freezing and heat. Refrigerate after opening.

Cautions: Do not consume if tamper resistant seal is broken/missing. Do not consume if allergic to components found within product. As with all dietary supplements, contact your doctor before use. If taking prescription medications, have an ongoing medical condition, are pregnant, nursing or under age 18, consult doctor before use. Isolated minerals or nutrients are best taken as part of a well balanced diet and broad supplement program. KEEP CAP TIGHTLY CLOSED. KEEP OUT OF REACH OF CHILDREN.
Product Reviews
Write Review
Knee feels great

Posted by Unknown on Jan 18th 2019

Knee was giving me pain ocassionally. So I started taking the Flex and half way through my second bottle..my knee felt so much better. Today I still take Flex and my knee feels great.

Joint and Flexibility Renewal

Posted by Suzy Crosson on Dec 12th 2018

I have been using Flex for 6 months plus and I truly feel a difference. My knees and hips are where I have noticed the greatest change. Highly recommend this product!

Bones start cracking again

Posted by Dennis Wallot on Nov 27th 2018

All my joints have been stiff for many years after starting to take flex I can now turn and flex ankles, fingers and wrists. It feels goods to crack my joints again

Flex for motion

Posted by Unknown on Aug 24th 2018

Joint Flex is excellent for flexible joints and motion. I like how the liquid form makes it easy to take and easy to absorb. Great for when you age or if you have joint wear.

Finally found flex

Posted by Teresa Moody on Jul 31st 2018

Joint Flex is the only product I've tired that has helped my joints and my sciatic nerve. I can walk in comfort.

Be flexible and flowing with Joint Flex

Posted by Unknown on Jul 12th 2018

Joint Flex is easy to use. The liquid is easy to take with an interesting flavor. This is something I need as I age.

Product performance

Posted by Unknown on Nov 15th 2017

Good product!

Joint Flex

Posted by Cynthia on Oct 6th 2017

I have trouble with my knees. I decided to start taking this for any help I could get. I have been taking this for about 2 weeks and am very happy with the results.

Improved mobility and reduced joint pain

Posted by Ben on Jul 11th 2017

I'm 47 and I do Olympic and Power lifts as part of Crossfit which can be rough on all the joints. My wrists and ankles have historically been tight and would be somewhat restrictive during lifts. After taking Flex for about a week I noticed a big difference in my mobility and much less discomfort. I take it everyday now. Great stuff!

Glad I finally found this

Posted by David H. on Apr 22nd 2017

I was taking glucosamine and chondroitin pills in the past but didn't really notice much difference. After I started taking your liquid product, I was so happy with how my joints started feeling. Guess I just needed to find yours. Really glad I did. I take it every day now. I like that it has Type II collagen.

So far so good!

Posted by Cheryl on Aug 1st 2016

I have felt a difference with my knees since I've been taking the liquid joint. I'm pleased that I am able to take this product.
Customers also viewed