Zinc Mineral Ultra Concentrate Immune Health Liquid Drops
Immune • Beauty • Vision*
Zinc Mineral Ultra Concentrate Immune Health Liquid Drops
Immune • Beauty • Vision*
---
Immune • Beauty • Vision*
Did you know your body needs Zinc everyday?
Zinc is essential for immune health, but our bodies cannot store excess zinc efficiently. You need to keep providing it daily. It is an essential mineral involved in over 100 different functions in the body (including your immune system) and needs to be replenished. Zinc Mineral Ultra Concentrate Liquid Drops are an ionic, ultra concentrated Zinc supplement. It is designed for easy, variable daily dosing for the entire family throughout the year.
WHY YOU WILL LOVE IONIC ZINC DROPS

• 100 Servings Per Bottle
• 100% RDA Per Serving
• Ultra Concentrate
• Easy To Swallow
• Convenient Dosing

BENEFITS & FUNCTIONS OF IONIC ZINC
• Immune Health*
• Hair & Skin*
• Eye & Vision*
• Heart Health*
• DNA Replication*
• Metabolism & Weight*





ZINC IS RECOGNIZED AS AN ESSENTIAL DAILY NUTRIENT
It is important for immune health, to uniquely support pathways that impact immunity and resilience in the body.

ZINC SUPPORTS MULTIPLE BODY FUNCTIONS
Zinc may also support vision health, cardiovascular, skin and beauty health, brain and mental health*. It is also recognized in topical wound application and general well-being.*


Ionic Zinc Liquid Drops – Your Strong Defense for Immune Health*
Convenient dosing with a concentrated formula of 11 mg per serving – 100% RDA. It's a fast and easy way to replenish zinc for your active lifestyle.*
PURE & CONCENTRATED
High potency formula at 100% DV with 100 servings per bottle.
• Zero calories, Zero sugar. Zero sweeteners or flavors.
• Gluten Free, Soy Free, Dairy Free.
• Keto and low-carb appropriate.
LIQUID FAST
Eniva's liquid design offers high bio-availability and rapid absorption, making it ideal to work into your daily routine. Can be used by the entire family.
EASY & CONVENIENT

Easy to take versus hard-to-swallow pills, lozenges or messy powders. Can be taken straight or added to water, juice or favorite beverage or shake.
PURITY, POTENCY & VALUE

PREMIUM ELEMENTAL ZINC
AT A WALLET FRIENDLY PRICE

100 SERVINGS PER BOTTLE
OUR PROMISE TO YOU


_________

100%
SATISFACTION
GUARANTEE
WE MAKE OUR OWN



• It's important to know who and where your products come from!
• Made in Minnesota.
• Eniva products are USA produced.
• We manufacture onsite at our own certified manufacturing facility in Minnesota.
• For nearly 25 years, we've been delivering premium quality supplements to millions of people.
OUR PROMISE TO YOU
SAFETY - QUALITY - EFFECTIVENESS
• We care about your experience.
• If a customer is not pleased with any product purchase, we will offer a refund or exchange.
• All products are refundable/exchangeable within 30 days of purchase.
• We are committed to providing outstanding customer care for you.
*This statement has not been evaluated by the Food and Drug Administration. This product is not intended to diagnose, treat, cure, or prevent any disease.
Note: Do not take on an empty stomach.
FAST ABSORPTION IONIC ZINC SUPPLEMENT—Daily zinc drops support immune health. Each 1.7 oz bottle includes 100 servings of liquid ionic zinc with dropper for adults and children. The ionic nature of this product allows for high bioavailability so your body can easily absorb and efficiently use this important mineral.

EXTRA STRENGTH ZINC FORMULATION—Premium zinc supplement supports your body's own efforts for immunity, vision, cardiovascular health, brain health, mental health, skin, and beauty.

LIQUID FAST & CONVENIENT—Ideal as a daily zinc supplement. Can be taken with dropper or added to water, juice, favorite beverage or shake. Small bottle is great for on-the-go, fits in a purse, luggage, or quart-sized bag for travel.

GLUTEN FREE, KETO, VEGAN, LOW-CARB DROPS—Zero calories and sugars, no preservatives, no sweeteners and no artificial flavors. NON-GMO. Natural zinc supplement manufactured in the USA in GMP facility.

TIMELY SUPPLEMENT: Zinc is what many people are looking for right now to support their immunity, resilience and overall wellbeing. It can be a star player on your wellness team. SATISFACTION GUARANTEE: We're so sure you will love this product, we guarantee your purchase. You have nothing to lose and so much to gain by trying this remarkable product. Your immune system will thank you!
Zinc Mineral Ultra Concentrate Immune Health Liquid Drops (1.7 oz)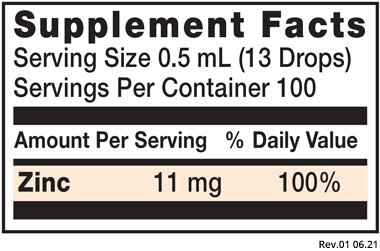 Ingredients: Purified water, zinc sulfate.
• Gluten, Soy & Dairy Free
• No Artificial Colors, Flavors or Sweeteners
• Zero Sugar & Zero Carbs
• Vegan
Suggested Use:
Adults: 13 drops (0.5 mL) daily or as recommended by your doctor. Suggested to dilute with 4 - 6 ounces of liquid. Shake well before using.
Storage Directions: Avoid freezing and heat.
Caution: Do not consume if tamper resistant seal is broken or missing. Consult your healthcare professional before beginning this or any other nutritional product.
KEEP OUT OF REACH OF CHILDREN.