Vision & Eye Health Liquid Supplement, EYE HEALTH+
Experience the liquid advantage! Doctor formulated & high potency for complete vision support, macular health, flashers, floaters and screen stress.*
Vision & Eye Health Liquid Supplement, EYE HEALTH+
Experience the liquid advantage! Doctor formulated & high potency for complete vision support, macular health, flashers, floaters and screen stress.*
FREE SHIPPING with 2 bottle order.

---
Eniva Eye Health+ Liquid Concentrate
Vision • Macular Function • Eye Aging*
A highly potent nutritional supplement specifically formulated to support eye health and address the issues of supporting sight and retaining macular health.* Eniva Eye Health+ utilizes Eniva's proprietary liquid technology to provide liquid vitamins, minerals and antioxidants for healthy eyes.* Clinical and research studies have strongly supported the use of nutrients to help promote ocular health.* The exclusive formulary matches the nutrients ratios found in the macula of the eye.
The advanced liquid formula of Eniva Eye Health+ aids in quicker absorption and use of ingredients than tablets or pills which must first dissolve in the digestive system before being absorbed.* 40% of people have problems swallowing tablets or pills, and an aging digestive system particularly common in the elderly, makes digesting tablets and pills even more problematic.
A Specialized Formula
• Lutein: A subgroup of the carotenoid family that acts as a filter for the light sensitive photoreceptor cells in the macula of the eye.*
• Zeaxanthin: A member of the carotenoid family that is a macular light-gathering pigment which aids in the processing of free radicals from ultra-violet radiation and oxygen.*
• Vitamin A (as beta-carotene): Supports the production of visual purple (substance necessary for seeing at night) and acts as an important vitamin catalyst and antioxidant.*
• Vitamin B2: Supports health of the eye through the release of glutathione (shields the proteins in the lens of the eye).*
• Vitamin C: A nutrient vital for the production of aqueous humor (fluid between the cornea and lens) and the reformation of corneas.*
• Vitamin E: A potent antioxidant that helps quench free radicals in the retina and supports circulation and tissue health.*
• Zinc: Catalyst for conversion of vitamin A to its active form retinaldehyde in the retina.
• Selenium & Grape Seed Extract: Acts as a potent antioxidant that scavenges free radicals to promote retinal and macular health.*
• Copper: Supports formation of strong, flexible connective tissue for proper eye structure.*
It is normal and expected with natural extracts and ingredients some settling may occur.
WE MAKE OUR OWN



• It's important to know who and where your products come from!
• Made in Minnesota.
• Eniva products are USA produced.
• We manufacture onsite at our own certified manufacturing facility in Minnesota.
• For nearly 25 years, we've been delivering premium quality supplements to millions of people.
OUR PROMISE TO YOU
SAFETY - QUALITY - EFFECTIVENESS
• We care about your experience.
• If a customer is not pleased with any product purchase, we will offer a refund or exchange.
• All products are refundable/exchangeable within 30 days of purchase.
• We are committed to providing outstanding customer care for you.
*This statement has not been evaluated by the Food and Drug Administration. This product is not intended to diagnose, treat, cure, or prevent any disease.
Doctor formulated liquid supplement with vital nutrients for eye health. Great tasting natural orange flavor.
For support of vision, ocular structures, age related change, macular health, flashes, floaters & computer screen stress*
Contains AREDS eye nutrients - Lutein, Zeaxanthin, Vitamin A as beta-carotene, Vit C, Vit E, Vit B2, Zinc, Selenium, Copper & Grape Seed Extract.
Gluten Free, Lactose Free, Dairy Free .

Diabetic & Vegetarian Friendly, No Artificial Colors or Flavors.

Serving size 1 liquid ounce. 32 servings per bottle.
Made onsite at Eniva's GMP certified USA facility.

Carried in multiple eye practitioner offices and doctor recommended.

100% Satisfaction Guarantee.
Eye Health+ (32 oz)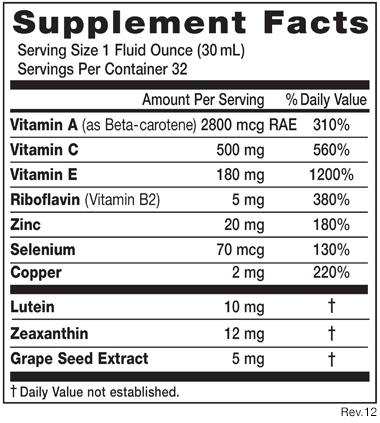 Ingredients: Purified water, ascorbic acid, sorbimacrogol, inulin (from chicory root), natural flavor, d-alpha tocopherol acetate, vegetable glycerin, zinc (from zinc sulfate), organic stevia leaf extract, zeaxanthin, lutein, sorbic and/or benzoic acid(s) (protect freshness), soy lecithin, beta-carotene, riboflavin-5-phosphate, copper (from copper sulfate), grape seed extract, selenium (from sodium selenate).

• Gluten Free ¬Å
• Cold Blended
• No Added Sugar ¬Å
• Vegan
• No Artificial Colors, Flavors or Sweeteners
• BPA Free Bottle
Directions:
Adults: 1 Ounce daily (30 mL).
Best if divided 15 mL AM and 15 mL PM.
Mix with 8 ounces of liquid.
Should be taken with food.
Shake well before using.
Contents under pressure.
May release significant air upon opening.
Storage:
Avoid freezing and heat.
Refrigerate after opening.
CAUTION: Do not consume if seal is broken or missing. Do not consume if allergic to ingredients. As with all dietary supplements, contact your doctor before use. If taking prescriptions, have an ongoing medical condition, pregnant, nursing or under age 18, consult doctor before use.
KEEP CAP TIGHTLY CLOSED.
KEEP OUT OF REACH OF CHILDREN.
SMOKERS: Please consult your health care professional about the risks associated with smoking and using beta-carotene.