Prostate Complete High Potency Formula
Doctor Formulated Triple Action Design: Prostate & Urinary Health, Sexual Performance, Hair Health.*
Prostate Complete High Potency Formula
Doctor Formulated Triple Action Design: Prostate & Urinary Health, Sexual Performance, Hair Health.*
Made onsite at Eniva's GMP certified USA facility.

---
Eniva Natural Health Prostate: Plant Nutrients For Men's Health
Prostate • Urinary Flow • Hair Health*
Eniva Natural Health Prostate is a doctor formulated and specialized men's health product designed to support the prostate, male performance and healthy hair follicles.* This formula includes various researched and studied phytonutrient and mineral ingredients that have been shown to promote wellbeing in the aging male*

IT'S WHAT YOU HAVE BEEN LOOKING FOR!
Eniva Natural Health Prostate Formula
• PROSTATE HEALTH*
• URINARY FLOW*
• MALE PERFORMANCE*
• HAIR FOLLICLES*

ENIVA HEALTH PROSTATE FORMULA SUPPORTS:
• The health and size of the aging male prostate*
• Healthy urinary flow and normal urinary frequency*
• Healthy bladder function*
• Healthy hair follicles and male hormonal balance*
• Nutritive support for hair growth, fullness and strength.*
• Hormonal balance in testosterone and DHT pathways.*
• Intimate/reproductive health*
COMPLEMENTARY APPROACH
PHYTONUTRIENT POWER

The Eniva Natural Health Prostate formula incorporates powerful research-based phytonutrients from both Western and Eastern traditions. The result is a safe and effective nutritional formula no male should go without.*
Numerous studies have yielded positive data regarding the clinical efficacy of phytonutrient substances. A significant benefit of these substances is their low side effect profile.*
NATURE-BASED, SAFE & EFFECTIVE
Eniva Natural Health Prostate formula is doctor formulated with powerful phytonutrient ingredients:
• Saw Palmetto
• Beta-Sitosterol
• Cranberry Extract
• Pygeum Africanum Bark
• Evening Primrose Oil
• Grape Seed Extract
• Nettle Leaf Extract
• Selenium • Zinc

TESTOSTERONE – DHT

A stimulating and potentially irritating hormone to both the prostate and hair follicles is a derivative of testosterone known as dihydrotestosterone, or DHT. Other male (androgenic) factors also play a role. Once stimulated, the irritation cycle leads to body imbalance.

An imbalance of testosterone can occur as men age. Stimulation of the testosterone hormonal pathway can produce a cycle of undesirable prostate and hair follicle irritation. Eventually, this can lead to lifestyle challenges.

HORMONAL BALANCE IS THE KEY
Eniva Natural Prostate Health formula takes a multi-faceted approach by addressing:
• Prostate & Hair Follicles*
• Hormonal Balance*
• The Irritation Cycle*
Plant Nutrients for Men's Health

The following leading complementary phytonutrients and substances have demonstrated supportive research specifically related to men's health:
• Saw Palmetto: Extensively researched and clinically supported, it plays a role in testosterone metabolic processing and promoting healthy DHT balance. – Data suggests it may mildly augment the action of 5-alpha-reductase, the enzyme that converts testosterone to DHT.*
• Beta-Sitosterol With Phytosterols: A purified plant substance that is the main, active sterol found in saw palmetto and pygeum. Similar in its action in the prostate and hair follicle to saw palmetto and pygeum.
• Pygeum: The extract of evergreen trees in central and southern Africa has three main constituents: Phytosterols (including beta-sitosterol, Pentacyclic terpenes and Ferulic esters. These substances play a role in combating irritation, and may influence testosterone and DHT binding.*
• Cranberry: Cranberry Extract contains powerful proanthocyanidins that can support a healthy urinary tract.*
• Evening Primrose Seed Oil: Evening Primrose Seed Oil contains gamma linolenic acid (GLA), a fatty acid the body converts to a helpful hormone-like substance called prostaglandin E1 (PGE1) and may also independently posses properties that promote healthy testosterone metabolism.*
• Nettle: The nettle leaf has anti-irritation actions.*
• Grape Seed: Grape Seed Extract is an antioxidant that contains natural bioflavonoids which help augment irritation cycles.*
• Selenium: Selenium has long been recognized as a potent antioxidant and has been strongly linked to aiding in healthy cellular replication.*
• Zinc: Zinc is found in high concentrations in the human prostate gland. It plays a role in the normal physiologic processes that help support a normally-functioning prostate gland.*
What is the Male Prostste?
• The prostate is a small organ approximately the size of a walnut. It lies below the bladder (where urine is stored) and surrounds the urethra, the tube that carries urine from the bladder.
• The prostate is a gland in men that helps make semen. It plays a key role in proper intimate function.
• The prostate also supports the health of the bladder.
• As men grow older, the prostate tends to grow larger and can cause a number of health and lifestyle changes
When Will I See a Difference?

• Most studies indicate a noticeable difference will be seen between 4-6 weeks. At a minimum, an individual who is integrating a complementary approach should stay on their program for at least 6 weeks.*
• As always, be sure to include your personal professional health care provider in the decision to use complimentary nutraceutical products.
• It is recommended that individuals who have liver problems/disease do not consume products containing herbal components unless first checking with their qualified healthcare specialist.
WE MAKE OUR OWN
• It's important to know who and where your products come from!
• Made by Eniva Health in Minnesota, USA.
• We manufacture ONSITE at our own certified manufacturing facility in Plymouth, Minnesota.
• For over 20 years, we've been delivering premium quality supplements to millions of people.
OUR PROMISE TO YOU
100% SATISFACTION GUARANTEE
• If a customer is not pleased with any product purchase for any reason, we will offer a refund or exchange.
• All products are refundable/exchangeable within 30 days of purchase.
• We are committed to providing outstanding customer care for you.
*This statement has not been evaluated by the Food and Drug Administration. This product is not intended to diagnose, treat, cure, or prevent any disease.
The Solution to Frequent Nighttime Trips to the Bathroom.*

Supports the health & size of the male prostate,* healthy urinary flow & frequency,* male performance,* DHT pathways,* healthy hair follicles* and overall sexual function.*

Doctor Formulated, Fast Acting, Science Backed and a 100% Satisfaction Guarantee.

Key Ingredients: Saw Palmetto, Beta-Sitosterol, Pygeum, Zinc, Selenium, Cranberry, Nettle Leaf, Grape Seed and Evening Primrose Seed Oil.

60 veggie capsules per bottle. 2 capsules per serving.

Diabetic Friendly. Zero sugar. Soy Free, Gluten Free, Paraben Free, Alcohol Free, No Artificial Colors or Flavors.

Manufactured onsite in the USA at Eniva's own GMP certified facility.
Natural Health Prostate (60 Caps)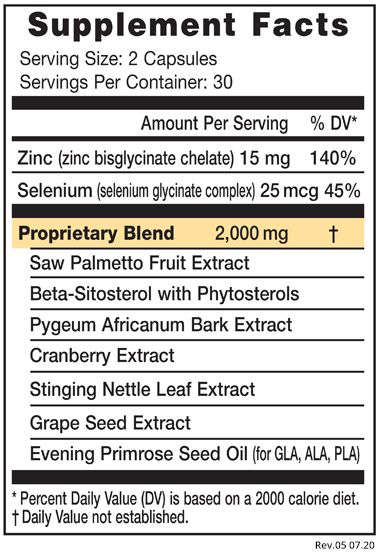 Other Ingredients: Vegetable capsule, maltodextrin, cellulose gum (vegetable), magnesium stearate.
• Gluten Free
• Soy Fee
• Dairy Free
• Vegan Friendly
• No Sugars
• No Fish Ingredients
• No Artificial Colors
• No Artificial Flavors
Directions: Adults: 2 capsules daily or as directed by your healthcare professional.
Storage Directions: Avoid excessive heat.

Caution: Do not consume if tamper resistant seal is broken or missing. Do not consume if allergic to components in product. As with all dietary supplements, contact your doctor before use. If taking prescriptions, have ongoing medical condition, pregnant, nursing or under age 18, consult doctor before use. KEEP CAP TIGHTLY CLOSED. KEEP OUT OF REACH OF CHILDREN.