Get Summer Picnic Ready
Eniva Omega 3-6-9™ Salad Oil is a premium blend of hexane-free pressed walnut, sesame, sweet almond, and avocado oils. It has a neutral taste, delicate flavor, and pleasing mouth feel that enhances salad dressings and other dishes. Omega 3-6-9™, refers to the fact that it contains the essential fatty acids (EFAs) omega 3 oils, omega 6 oil, and monounsaturated omega 9 oil ,which are vital for a healthy body. We're confident you'll think Omega 3-6-9™ is the best salad oil you've ever tried!

Benefits of Essential Fatty Acids:

• Supports metabolism and proper body weight.*

• Helps boost antioxidants.*

• Benefits cardiovascular system.*

• Supports healthy skin and nails.*

• Supports healthy joints.*

• Aids in immune health.*

• Supports neurological health.*

Usage: The primary application of Omega 3-6-9™ is for use in COLD dressings and other dishes.

• Hexane & solvent free

• Cold processed

• Nitrogen flushed for freshness
Scientific References:

Data on file, Eniva Corporation, 2021.
* This statement has not been evaluated by the Food and Drug Administration. This product is not intended to diagnose, treat, cure, or prevent any disease.
Omega 3-6-9 Salad Oil is a premium blend of cold pressed walnut, sesame, sweet almond, & avocado oils. It has a delicate flavor & pleasing texture that enhances salad dressings, dips, sauces and cold dishes.

Omega 3-6-9 refers to the fact that it contains the essential fatty acids (EFAs) omega 3 oils, omega 6 oil, and monounsaturated omega 9 oil, which synergistically helps support a healthy body.*

Omega oils also help support normal function and normal health of cardiovascular systems, skin, hair & nails, metabolism, immune system, and neurologic function.* Also helps to maintain a healthy weight.*

Triggers metabolism & increases natural fat loss Helps boost antioxidants Benefits cardiovascular system Supports healthy skin & nails Supports healthy joints Aids in immune health.

Contains cold pressed and refined walnut oil, sesame oil, sweet almond oil, and avocado oil.

Perfect for keto, paleo and Mediterranean diets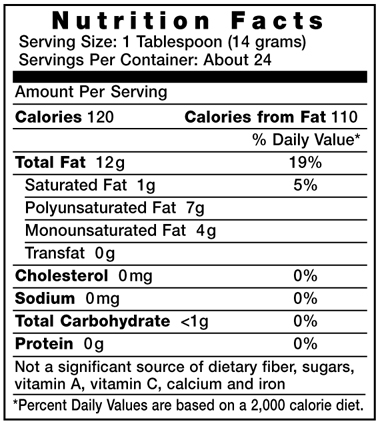 Other Ingredients: Walnut oil, sesame oil, sweet almond oil, avocado oil.
• No Artificial Colors or Flavors
• Gluten Free
• Diabetic Friendly
• Vegetarian Friendly
• No Fish Ingredients
• Cold Processed
• No Irradiation
• No Pasteurization

GUARANTEED PURITY

Usage: The primary application of Omega 3-6-9 is for use in cold dressings and other dishes.
Storage Directions: Avoid freezing and heat. Keep refrigerated upon receipt and after opening.

Note: When Omega 3-6-9 is refrigerated, it may turn cloudy due to the cold temperature. It will turn clear when it is brought to room temperature.
Caution: Do not consume if tamper resistant seal is broken/missing. Do not consume if allergic to components within product. Oil can catch fire if exposed to excessive heat or flame. Turn off heat source and cover to extinguish flame. KEEP CAP TIGHTLY CLOSED. KEEP OUT OF REACH OF CHILDREN.