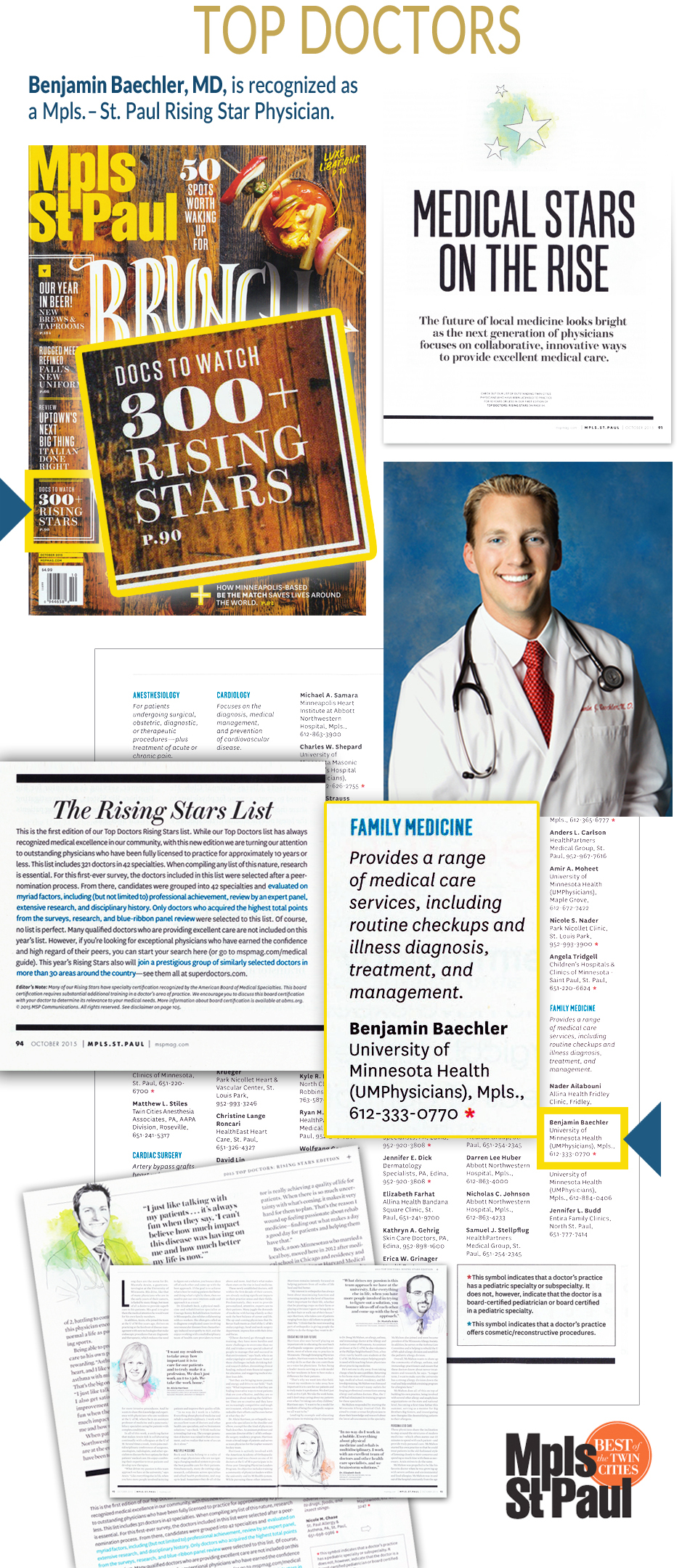 Mpls. St. Paul Magazine
TOP DOCTORS: RISING STAR EDITION - Excerpt
Medical Stars on the Rise
The future of local medicine looks bright as the next generation of physicians focuses on collaborative, innovative ways to provide excellent medical care.
The Rising Stars List
This is a recent edition of our Top Doctors Rising Stars list. While our Top Doctors list has always recognized medical excellence in our community, with this new edition we are turning our attention to outstanding physicians who have been fully licensed to practice for approximately 10 years or less. This list includes 321 doctors in 42 specialties. When compiling any list of this nature, research is essential. For this first-ever survey, the doctors included in this list were selected after a peer-nomination process. From there, candidates were grouped into 42 specialties and evaluated on myriad factors, including (but not limited to) professional achievement, review by an expert panel, extensive research, and disciplinary history. Only doctors who acquired the highest total points from the surveys, research, and blue-ribbon panel review were selected to this list. Of course, no list is perfect. Many qualified doctors who are providing excellent care are not included on this year's list. However, if you're looking for exceptional physicians who have earned the confidence and high regard of their peers, you can start your search here (or go to www.mspmag.com/medicalguide). This year's Rising Stars also will join a prestigious group of similarly selected doctors in more than 30 areas around the country.
While approximately 5 percent of the physicians within the respective state or region are named to Super Doctors, no more than 2.5 percent are named to the Rising Stars list.
---
The Super Doctors Selection Process
Excerpt from: http://www.superdoctors.com/about/selection_process.html#RS
In selecting physicians for Super Doctors, MSP Communications employs a rigorous multi-step process designed to identify physicians who have attained a high degree of peer recognition and professional achievement. Super Doctors is a selective yet diverse listing of outstanding doctors, representing consumer-oriented medical specialties.
Survey of Doctors
First, we create a pool of candidates. Each year MSP Communications invites doctors to nominate colleagues they know to be exceptional in their specified field. Physicians are asked to consider the following question: "If you needed medical care in one of the following specialties, which doctor would you choose?" Numerous safeguards are in place to prevent ballot manipulation and doctors may not self-nominate.
Candidate Search
Our research staff also contributes to the pool of candidates by searching medical databases, online sources, and publications for doctors who have attained certain credentials, honors or professional achievements - what we term 'Star Search Credentials.' This process also includes physicians in less visible or highly specialized medical treatment areas.
Research
We evaluate candidates on 10 indicators of peer recognition and professional achievement.
Years of experience

Hospital appointments

Fellowships

Professional activities

Leadership positions

Academic achievements/positions

Board certifications

Publications, lectures & presentations

Honors and awards

Other outstanding achievement
Blue Ribbon Panel Review
Nominees are then grouped into specialties. Doctors, in each area, who have the highest scores from the nomination and evaluation steps are invited to serve on a "blue ribbon panel." Each panelist is asked to review and evaluate a list of nominees from his/her area of focus.
The Final Selection
The last step is to total the points received from nominations, research, and blue ribbon panel review. Only the highest-scoring doctors are included on the Super Doctors list. The Super Doctors list is approximately 5% of the physicians within the respective state or region.