Eniva® Kid's Super D Liquid Concentrate provides the American Academy of Pediatrics (AAP) clinically recommended amount of daily Vitamin D for infants and children. Safe, natural and ultra-pure, Kids' Super D comes in an easy-to-use, great tasting liquid that children of all ages will love. Plus, it provides the superior clinical form of Vitamin D: Vitamin D3.*
Vitamin D Supports:
• Healthy bones and muscles*
• Healthy cellular replication*
• Healthy immune function*
• Healthy mood and mental health*
• Healthy neurologic function*
• Healthy heart function*
• Healthy endocrine function - including blood glucose*
Vitamin D Supplementation in Infants: Recommended by all major scientific bodies.
While breastfeeding is the recommended method of infant feeding and provides infants with necessary nutrients and immune factors, breast milk alone does not provide infants with an adequate intake of vitamin D, and puts them at risk for Vitamin D deficiency disease(s).
In November 2008, the American Academy of Pediatrics (AAP) published a new guideline and standard of care statement due to new ground-breaking research. The 2008 report recommends a DAILY intake of vitamin D of 400 IU/day for ALL infants and children beginning in the FIRST FEW DAYS OF LIFE. This is now the standard of medical care. If using breastmilk, the guideline recommends intiation of an appropriate Vitamin D supplement within days of birth.
Consider the following:
SAD FACT: The majority of all major brands that supply infant Vitamin D drops use:
• Artifical colors (like FD&C Red and Yellows)
• Artifical flavors (saccharin, aspartame, acesulfame K)
• Inferior quality Vitamin D (ergocalciferol)
• Combine with un-needed additional nutrients not based on current scientific recommendations, which puts children at potential risk (i.e excessive Vitamin A).
• May have petroleum-based derivatives as oil carriers
SAD FACT: Many doctors aren't properly educated on the dangers of certain chemicals or techniques used in supplement manufacturing.
HAPPY FACT: Eniva Infant Vitamin D "Super Drops" have:
• NO ARTIFICIAL COLORS
• NO ARTIFICIAL FLAVORS
• The highest quality Vitamin D available - Bio-preferred form Vitamin D3 (cholcalciferol - the same as what your body naturally makes)
HAPPY FACT: You can give your child the very best for the same price or less than what the majority of retailers and insurance plans offer.
HAPPY FACT: Vitamin D "Super Drops" were created by a Family Medical Doctor who treats infants and children.
Eniva Cares!
• We believe children are precious and a gift.
• We believe children are to be kept safe.
• We want the very best for you and your family.
Keep your new baby safe and meet the American Academy of Pediatrics' recommendations at the same time! All for pennies a day. Isn't your child's health worth it?
Aqueous Stabilization™: Eniva's liquid proprietary nutrient stabilization process.
Scientific References: Data on file, Eniva Corporation, 2019.
* This statement has not been evaluated by the Food and Drug Administration. This product is not intended to diagnose, treat, cure, or prevent any disease.
---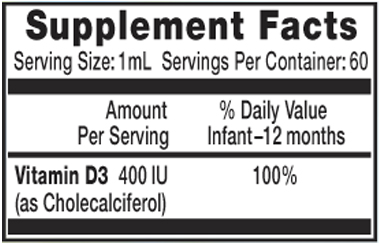 Ingredients: Purified water, xanthan gum, natural flavors, stevia leaf extract, citric acid, sorbic and/or benzoic acid(s) (protect freshness).
• No Artificial Colors or Flavors
• Diabetic Friendly
• Vegetarian Friendly
• No Fish Ingredients
• Gluten Free
• Cold Processed
• No Irradiation
• No Pasteurization

Directions: Infants/Children: 1mL Daily (1 dropper). Add to liquid or food. Shake well before using. Please see American Academy of Pediatricians' recommendation for toddler/child dosing recommendations.
Recommendations: May Combine with water or juice.
Storage Directions: Avoid freezing and heat. Refrigerate upon receipt and after opening.
CAUTION: Do not consume if tamper resistant seal is broken/missing. As with all dietary supplements, contact your doctor before use. KEEP CAP TIGHTLY CLOSED. KEEP OUT OF REACH OF CHILDREN.