Includes many healthy nutrients from whole-food sources
**Source of nutrient values is based on recent government research reports. See supplement facts for complete nutrient listings.
†Based on ORAC Antioxidant Score.
VIBE's Commitment to Natural Freshness:
•No irradiation
•No pasteurization
•No artificial sweeteners or flavors
•No GM (genetically modified) ingredients
•No MSG (mono sodium glutamate) ingredients
•No unnatural preservatives or paraben ingredients
•No hydrogenated ingredients
•No artificial colors or dyes
•No excitotoxins
•No trans fats
•No pesticides
•>No meat products
Incredible Value
The cost for a one month supply of VIBE is less than $2 per day... less than a gourmet cup of coffee!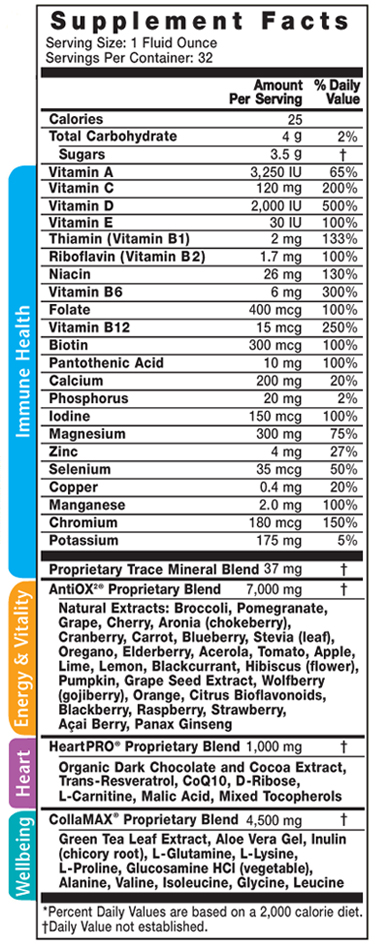 Ingredients: Purified water, natural flavors and extracts [may contain: grape, cocoa extract, green tea leaf extract, (caffeinated & decaffeinated), dark chocolate, pomegranate, aronia (chokeberry), cranberry, stevia leaf extract, aloe vera gel, elderberry, carrot, blueberry, oregano, tomato, pumpkin, apple, broccoli, blackberry, acerola (cherry), lemon, lime, black currant, hibiscus (flower), grape seed extract, panax ginseng, wolfberry (gojiberry), orange, citrus bioflavonoids, raspberry, strawberry, açai berry], natural sugars (beet, molasses and/or agave), magnesium (from magnesium citrate, -malate, -sulfate, -glycerophosphate, and/or -chloride), citric acid, malic acid, glycerin, calcium (from calcium citrate, -malate, -chloride, and/or -glycerophosphate), potassium (from potassium citrate, -chloride, -iodide, and/or -lactate), ascorbic acid, chicory inulin, d-alpha tocopherol acetate, natural gums (xanthan, guar, arabic), sorbic and/or benzoic acid(s), (protect freshness), l-proline, l-lysine, l-glutamine, niacin (from nicotinic acid), d-calcium pantothenate, l-carnitine fumarate, zinc (from zinc sulfate, and/or -chloride), retinyl palmitate, pyridoxine hydrochloride, boron (from sodium borate), folate (from folic acid and methylated folate), glucosamine hydrochloride (vegetable), trans-resveratrol, cholecalciferol, manganese (from manganous chloride and/or -sulfate), riboflavin phosphate, thiamine hydrochloride, copper (from copper sulfate and/or -gluconate), chromium (from chromium chloride), biotin, sorbimacrogol, coenzyme q10 (ubiquinone), selenium (from sodium selenate and/or selenium chloride), vanadium (from vanadyl sulfate), cyanocobalamin, n-methyl cobalamin. May contain rosemarinic acid.
32 oz. bottle. No Artificial Colors, No Artificial Flavors,Gluten Free, Vegetarian Friendly, No Fish Ingredients.