Throat Armor
Immune • Esophagus • Oropharyngeal*
Throat Armor
Immune • Esophagus • Oropharyngeal*
---
Eniva Throat Armor is Your Immune Shield to Keep your Body Strong!*
Have Immune Confidence!*
Staying immune-strong is very important now more than ever. Most unwelcome germs enter through your nose or mouth and travel to the throat where they can create issues. Eniva Throat Armor is a specialized formula designed to help coat the throat and esophagus with powerful bioactive polyphenols to support your body's throat, immune system and overall wellbeing.*

Eniva Throat Armor is doctor formulated, containing pure, plant based antioxidants and immune supporting ingredients that create a shield for your throat, and ultimately helps support your esophagus and vital immune system.*
Antioxidants offer a nutritional defense against damaging free radicals that wear down your natural resilience. Throat Armor provides a nature based shield that allows your body do what it was designed for — to be immune healthy!*
Throat Armor tastes great with a formula you'll love:
• Contains Green Tea, Oregano, Lemon, Raspberry, Turmeric, Beet
• Each serving contains 1065 mg of immune power*
• Non-GMO
• No gluten, no soy, no dairy
• No artificial colors or flavors
• Tastes delicious
• 180 servings per jar
What customers are saying
"I've been looking for an immune product like this! Eniva has done it again with a great supplement that really works."
— S.B., verified user

"Right now I know I need to be careful about what moves to my throat. I like this product coats my throat and helps create a natural layer against germs."
— Marcia, verified user

"Such a simple product, but what a winner. Natural and effective. I use it every day right now."
— Jim, verified user
Ingredients that Your Immune System and Throat Appreciate

• Green Tea: One of the most researched food supplements, Green Tea contains the powerful flavonoid EGCG that supports DNA and other immune pathways.*
• Oregano: This remarkable herb, used commonly by people who understand wellness, contains potent compounds that help the body remain strong.*
• Raspberry: Contains bioactive polyphenols that function as antioxidants. Antioxidants help negate damage from free radicals.*
• Lemon: A good source of Vitamin C, this nutrient is one of your immune buddies.*
• Turmeric: Used for thousands of years because of its antioxidant properties.*
• Beet: Contains natural immune supporting properties for body balance, circulation and wellbeing.*

What about sugar, gluten, dairy, soy or sweeteners?
• <1 gram of Sugar
• < 1 gram of Carbs
• Gluten Free
• Vegan
• No Lactose
• No Soy
• No Dairy
• Non GMO
• No Artificial Flavors
• No Artificial Colors or Sweeteners
Where and how is it made?
This supplement is manufactured in the USA at Eniva's FDA and MDA registered, SGS certified and cGMP compliant facility in Minneapolis, Minnesota. Throat Armor is carefully made to protect the freshness and potency of its nutrients:
• Cold Blended
• Non-Pasteurized
• Non-Irradiated
WE MAKE OUR OWN



• It's important to know who and where your products come from!
• Made in Minnesota.
• Eniva products are USA produced.
• We manufacture onsite at our own certified manufacturing facility in Minnesota.
• For nearly 25 years, we've been delivering premium quality supplements to millions of people.
OUR PROMISE TO YOU
SAFETY - QUALITY - EFFECTIVENESS
• We care about your experience.
• If a customer is not pleased with any product purchase, we will offer a refund or exchange.
• All products are refundable/exchangeable within 30 days of purchase.
• We are committed to providing outstanding customer care for you.
*This statement has not been evaluated by the Food and Drug Administration. This product is not intended to diagnose, treat, cure, or prevent any disease.
Most unwanted germs enter through your nose and settle in your throat, causing problems

Throat Armor's plant based antioxidants protect against damaging free radicals that create chaos in the throat and esophagus

Contains 1065 mg of immune power from polyphenol-rich green tea, oregano, turmeric, raspberry, lemon and beet that provide a shield for your throat and support your entire body*

Gives you a generous 180 servings per jar!

Doctor formulated, vegan, non-GMO, no soy, dairy, gluten, and no artificial colors, flavors or sweeteners

A perfect addition to your daily immune regimen -- plus it tastes great and is easy to take
Throat Armor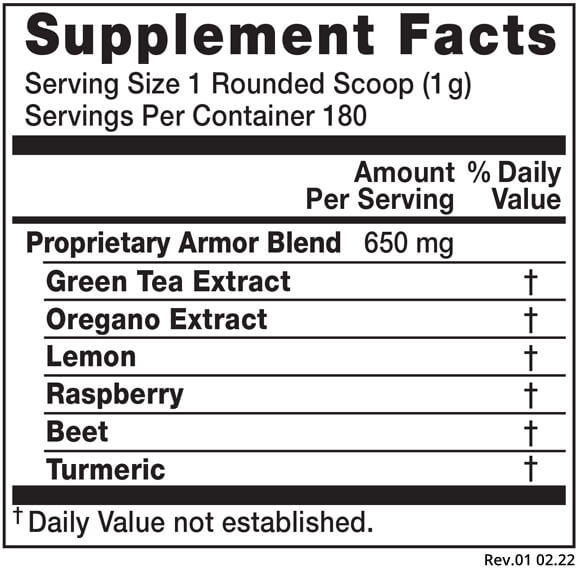 Other Ingredients: Guaran (guar seed powder), cane sugar crystals, stevia leaf extract.
• Non GMO
• Gluten Free
• Soy Free
• Vegan
• Less than 1g Sugar
• Less than 1g Carbs
• No Artificial Colors, Flavors or Sweeteners
Directions:
14 Years or Older / Adults: 1 serving
Mix 1 scoop with 2 ounces of water.
Hot/warm water is best. Stir until dissolved.
Mixture will become thickened.
Do not overfill water.
Recommended Dosing:
Take 1 serving 3 times daily spaced evenly throughout day. After mixing, gargle in mouth (30 – 60 seconds). Allow the liquid to coat your throat and gently swallow. Do not take with food or other liquids. After consuming, wait 15 minutes before eating or drinking.
CAUTION: Do not consume if tamper resistant seal is broken or missing. Do not consume if allergic to ingredients. As with all dietary supplements, contact your doctor before use. If taking prescriptions, have ongoing medical condition, pregnant, nursing or under the age of 14. KEEP CAP TIGHTLY CLOSED. KEEP OUT OF REACH OF CHILDREN.